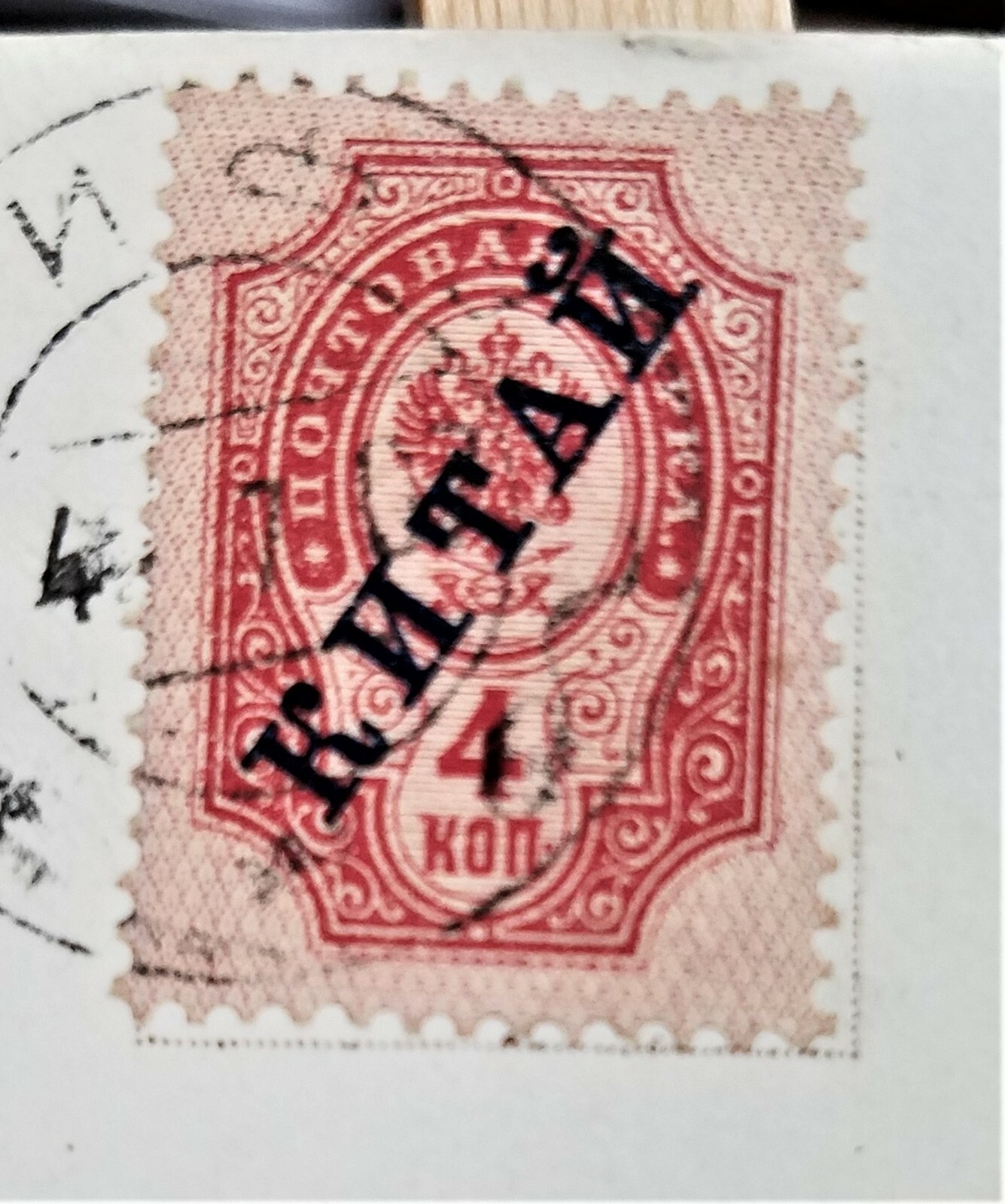 Price: 646.26 USD
Stamp Details:
1904 4KON, Russian (China) Stamp, Rose red, On Postcard USS Maryland 1907




1904 4KON, Russian (
China
) Stamp, Rose red, On
Postcard
USS Maryland
1907
. Shipped with USPS Priority Mail Flat Rate
Envelope
.
1904 4KON, Russian Stamp, Rose red, vertically laid paper, used, rich luxuriant color, neat central strike of a double ring c.d.s. with 1907 year date, post marked China, July 4, 1907, trivial short perf., still quite fine for this extremely rare stamp.
 4 KON Russan Stampis attached to Union Postale Universelle, Carte Postale, Post Card, Mailed from China, July 4, 1907, with note on front: "Well Ralph, here she is.  Looks something like the one you are on.  Rumor that you and St. Louis are coming out here. Well, Good Luck, Bill Cooper." U.S.S. Maryland.  Address on reverse:  Cheffoo, China, July 4.07.  Ralph Williams, U.S.S. Washington c/oPostmaster, New York, NY, U.S.A.  Chinese characters.
Post Card is of the U.S.S. Maryland, assigned the Asiatic Station in 1907 when this card was postmarked and mailed.  History of the ship:   In October 1905, following shakedown, Maryland joined the Atlantic Fleet for operations along the east coast and in the Caribbean, where she took part in the 1906 winter maneuvers off Cuba.  summer, she conducted a training cruise for Massachusetts Naval Militiamen, and then readied for transfer to the Pacific. Departing Newport on8 September 1906, she sailed – via San Francisco and Hawaii — for the Asiatic Station, where she remained until October 1907. She then returned to San Francisco and for the next decade she cruised throughout the Pacific, participating in survey missions to Alaska (1912 and 1913); carrying United States Secretary of State Knox to Tokyo for the funeral of Emperor Meiji Tenno(September 1912); steaming off the Central American coast to aid, if necessary, Americans endangered by political turmoil in Mexico and Nicaragua (1913, 1914,and 1916); and making numerous training cruises to Hawaii and the South-Centra lPacific.  
As eBay requires and we strongly suggest… please look at each photo, as you are the deciding factor and final judge on whether to purchase this piece or not. We make every effort based on the information available to us, to provide the buyer with as complete and accurate description and as much information as possible about each listing.  Thank you for checking out our listing.
PLEASE NOTE:  THERE ARE NO RETURNS. IFYOU HAVE ANY QUESTIONS REGARDING THIS ITEM PLEASE ASK BEFORE YOU PURCHASE IT,