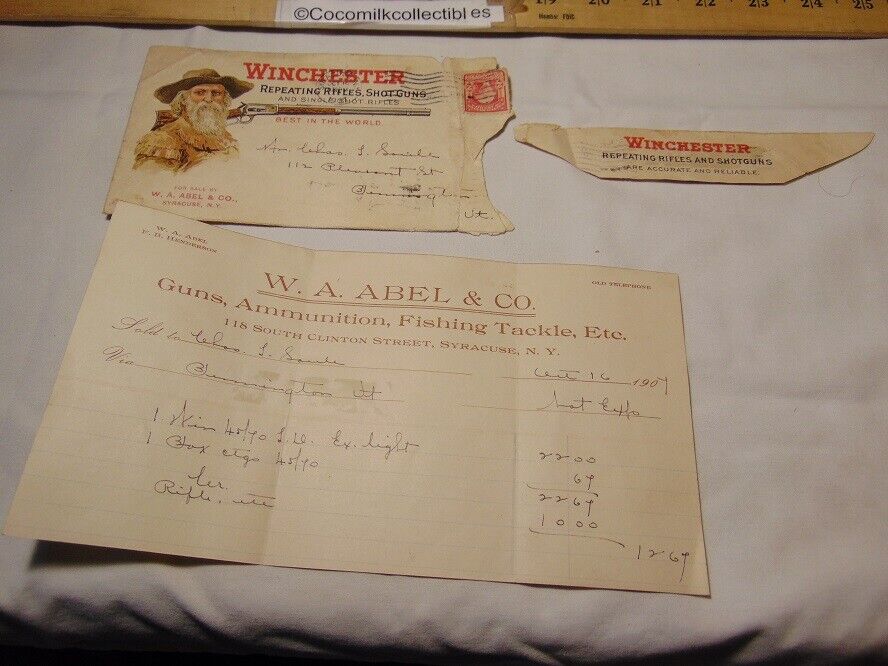 Price: 62.00 USD
Stamp Details:
1907 Cover Envelope Winchester Repeating Rifles w/ Receipt W A Abel Syracuse NY




Vintage October 17
1907
Advertising Cover
Envelope
Winchester Repeating Rifles Shot Guns Shotguns and Single Shot Rifles.  Front of
envelope
has For Sale by : W. A. Abel & Co Syracuse NY New York. Piece comes with Purchase Receipt from W A Abel of 118 South Clinton St Syracuse NY . Letter was mailed to Bennington Vt Vermont. Cover has a Red
2 cent
stamp
George Washington
– stamp is on it upside  down  .  There is also a small piece of a
envelope
back flap included with this lot- not sure if it belongs or not. Letter was opened on right edge- see pic's.  Receipt is in nice shape,
envelope
has edge wear- see pic's. Back of
envelope
has a neat cancellation of the US Flag.  Neat Reading and Step back in Time.   Neat piece for your Collection or for Display!  ***Buying as is. *See pictures for pictures for Condition. See my other listings for more Sports Cards , Sports Collectibles, Programs and Racing related items.  Shipping in US only. Outside of USA see
postage
calculator. Thanks for Looking!
"FYI – NEW FEDERAL LAW AFFECTING ONLINE SALES
State Tax is now being collected from most US States on purchases made online, INCLUDING eBay purchases. Your invoice may reflect a charge for this tax to your specific state.
eBay collects this tax and remits it directly to your state's Taxation and Revenue agency.
Your seller has no choice in this matter, and never receives this money – it is all handled behind the scenes by ebay."