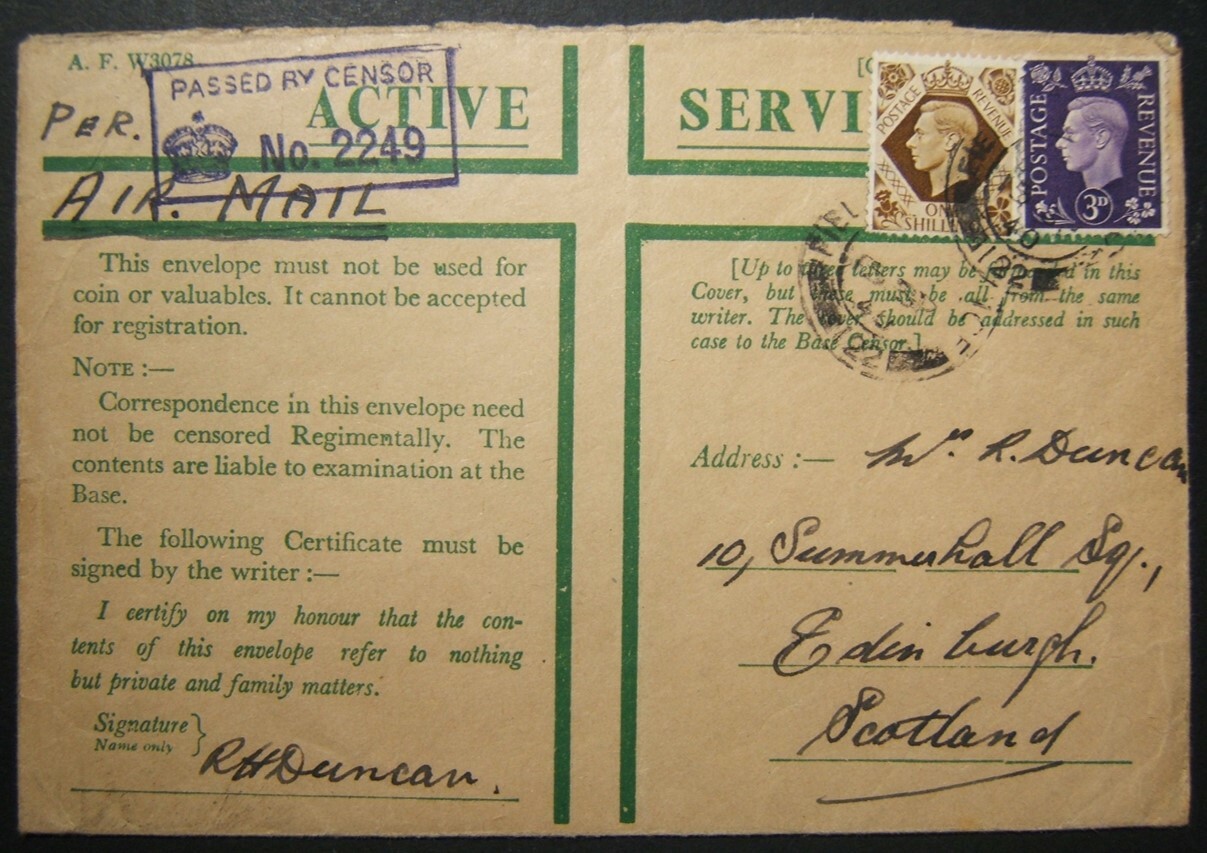 Price: 249.00 USD
Stamp Details:
1940 WWII Australian military Palestine cover to Scotland via Horseshoe Route




WWII Australian-British military mail in Palestine / 'Horseshoe Route': 15 SE 1940
airmailed
green honour
envelope
from
FPO 122
(TULKARM) to EDINBURGH Scotland, franked 1s/3d (15d = 15 pence = 60 mils) at period 'horseshoe route' rate, using British
stamps
& tied by 2 strikes of FPO postmark (the British Post Office assumed responsibility for military mail in Palestine in July 1940, at which point
postage
was to be paid only with British stamps); return addressed to soldier of D Troop, 4th Battery, 2/2 Field Regiment,
6th Division of 2nd Australian Imperial Force
(AIF – the volunteer component of the wartime Australian Army;
not recorded as serving in Palestine
but the
6th Division fought in the Western Desert Campaign
at Bardia, Tobruk & Benghazi) –
unusual as military mail normally sent without displayed return address
. Passed censor #224 in Palestine. Mail was sent by
air via TIBERIAS or CAIRO, to DURBAN
South Africa,
and then by sea to UK: here probably on flight WS16 departing SYDNEY on 11 SEPT, reaching TIBERIAS/CAIRO on 19-20th & DURBAN on the 23rd. Slit open at top.
Rare origin & scarce route.
—
Most of our merchandise ships out from Israel | orders are combined | additional items are charged 75c:
DOMESTIC services available are Registered mail (default) and courier mail. Please contact us if you desire courier mail.
BUYERS IN ISRAEL: eBay does not recognize Israel as being a "domestic" mailing destination – please contact us to be invoiced and charged $5 for registered mail.
—
OVERSEAS services available are Priority ECO Post registered airmail (default – $15 flat fee) and express EMS mail (3-day / 5-day to-door delivery – $40 flat fee). These options can be selected on check-out. We recognize that the shipping overseas is expensive – only ECO Post shows tracking up to delivery; for less expensive purchases on the understanding of the customer that tracking is not available we can user $5 standard registered mail overseas – please contact us so we can invoice you at this rate.
—
Prospective buyers in countries without postal relations with Israel can receive orders via a third country. Please contact us for this option.
—
To participate in our new auction ending 17 May & to see higher end, specialized philatelic items + materials from countries which cannot be displayed on ebay, add d o t com to our our handle name