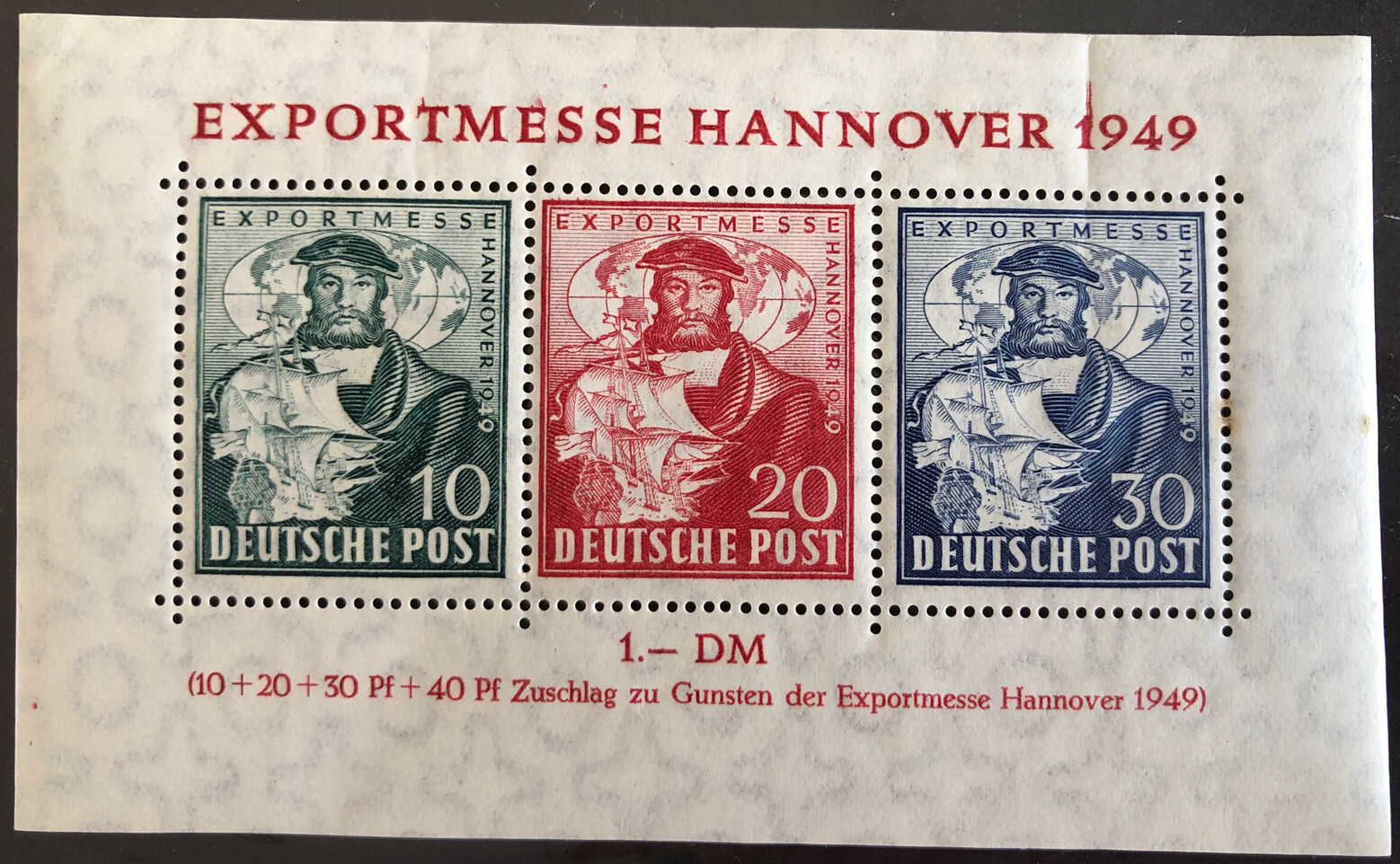 Price: 64.00 USD
Stamp Details:
1949 Germany Hannover Stamp Sheet Of 3 | Sc #664a Mi #BL1 | MNH OG




**Every attention to detail, subtlety, and nuance of fact has been taken into account and looked at to ensure this is listed correctly. If something happens to be inaccurate, please message me and let me know and I'll ensure it is changed to reflect a more accurate purchase.**
**IMPORTANT – IF YOU'D LIKE INSURANCE, OR WOULD LIKE SPECIAL SHIPPING TO BE TAKEN INTO ACCOUNT, PLEASE LET ME KNOW BEFORE PAYING FOR THIS ITEM. I'M DOING MY BEST TO ENSURE THIS EBAY STORE GROWS CORRECTLY BY DOING THINGS CORRECTLY. I WILL ACCOMMODATE ANY AND ALL REASONABLE REQUESTS. PLEASE MESSAGE ME AND WE'LL WORK OUT WHATEVER IS NEEDED TOGETHER.**
1949 Germany Hannover Stamp Sheet Of 3 | Sc #664a Mi #BL1 | MNH OG. These stamps feature Herman Hildebrant Wedigh on each stamp and this sheet was released through the Hannover Export Fair in 1949. They originally sold for 1 Deutsche Mark.
This sheet is in perfect condition. The pictures of the folds show that ink ran, which means the folds were done during the printing; not afterward.
All three stamps are tightly held in place by 100% intact perforations.
The little splotches of brownish rust color is from the "natural" chemicals inside the gum; this is fairly common on older German stamps.
As can be seen in the picture, this has never been hinged and the gum is completely intact.
All colors are vibrant.
This will make for some great conversation as part of someone's collection.
Postage is set to free without a tracking number.
Thank you for looking and check back often for more interesting items. When you've got time, check out my other stamps for sale; there are a lot.