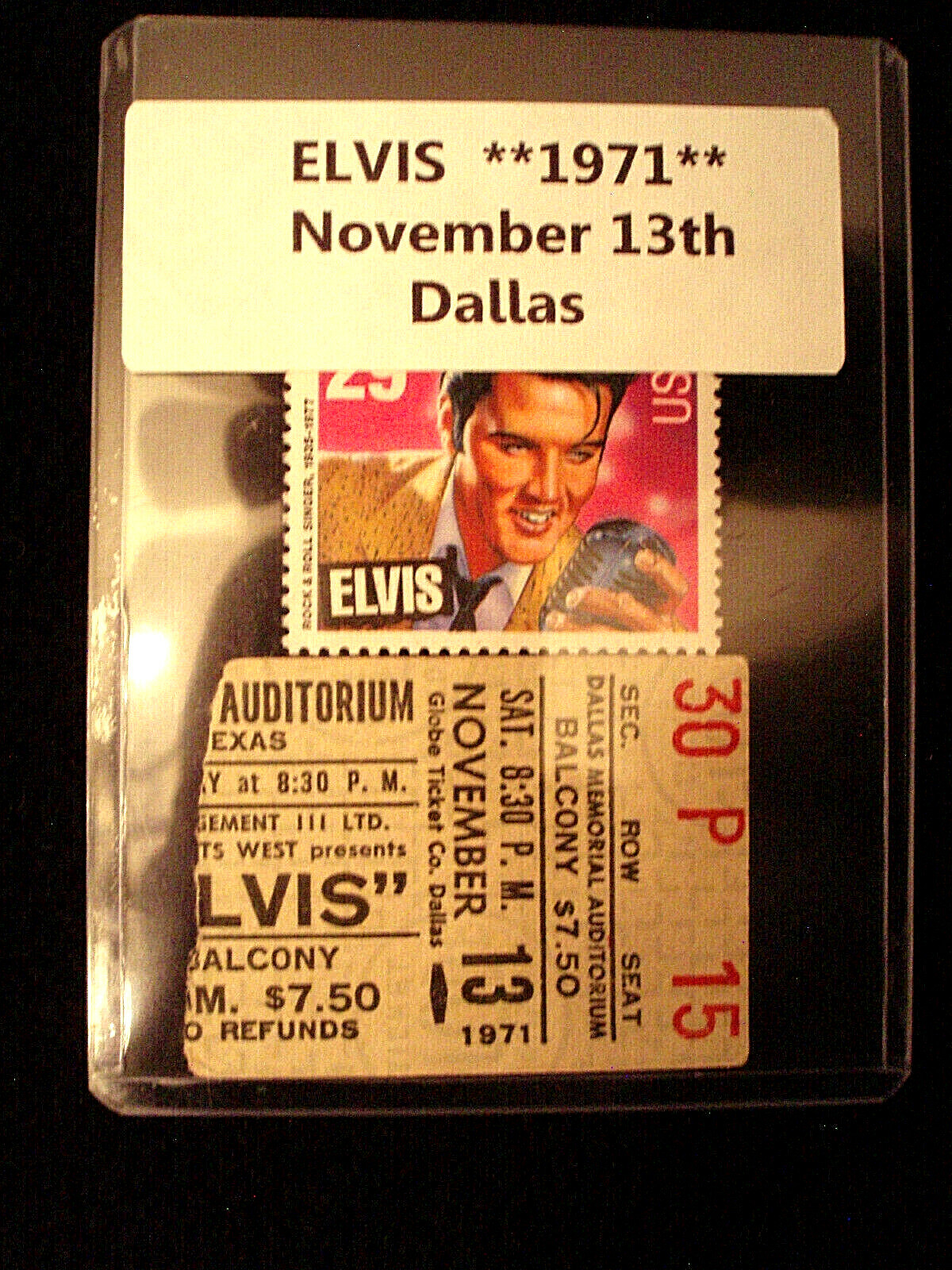 Price: 344.44 USD
Stamp Details:
1971 ELVIS TICKET STUB-November 13,1971-MINT+Vintage Stamp & Postcard




Original
ELVIS Ticket Stub         
Memorial Auditorium
Dallas, Texas
November 13, 1971
PSA Pop 0
EXCELLENT, CLEAN CONDITION
                      plus
Vintage
29 cent ELVIS Stamp
(A great shot of him when he was the king!)

Mailed tracked and insured domestically with signature required.
(International
buyers are sent their item by the e-bay Global Shipping Program or have
an additional insured and tracked shipping charge calculated by
location and availability.  In some countries, no signature or tracking
is obtainable and buyer accepts purchase as being completed without a
signature as proof of delivery; or, another delivery option can be
designated by the buyer to be explored by both parties before check-out.
Thank you.)
Thank you for looking!
Some Elvis trivia from this concert…
November 13, 1971. Dallas, TX

By Philip Wuntch
The Dallas Morning News  November 15, 1971

Elvis Presley held a capacity, screaming, overflowing, wildly enthusiastic (etc., etc., etc.) audience firmly in the grasp of his two gyrating hands Saturday night as he performed in full prowess at Memorial Auditorium.
He leaped onstage with much fanfare, to the strands of the classical overture from "2001:A Space Odyssey," then proceeded to take the audience on an exhausting journey of its own. He wore a white satin jump suit – and he did a lot of jumping. Elvis, of course, knows his way through a karate routine. His acrobatics and energy are boundless; but Dallas karate star Skipper Mullins was there to check him out.
Elvis has reached the point where he can gracefully spoof himself as performer. The smirks and sneers are still there of course, to say nothing of the swiveling; but there's a touch of self parody about it. Elvis is knowingly spoofing his early-days performing techniques; and whether the audience realizes what he is doing or not, it loves it.
FOR THAT MATTER, the crowd would never be confused with a Rolling Stones audience. Over half were women, mothers of young children, wearing semi-establishment hot pants and white boots. It was definitely the Straight Set's "big night out".
And Elvis didn't disappoint them. His voice has matured and grown stronger with less affectations. He did 22 songs without much in between patter; but what rapping there was was pleasant and affable. His first number, "It's All Right Mama," was the first he ever recorded. He earned three stars for "Proud Mary" and at least four stars for "You've Lost That Lovin' Feeling."
But when he dug into his memory book – "Love Me Tender," "Heartbreak Hotel," "Hound Dog," "Blue suede Shoes" – everyone was brought to 1957. During that segment of the show, it was shrieking and sobbing and throbbing time all the way.
But it was on "How Great Thou Art" and "The Impossible Dream" that his rich voice was truly tested; and he succeeded in fine form. He faltered slightly in the opening segments of "Bridge Over Troubled Water," but triumphed in the final verses.
Please take note: 
It
has been brought to my attention that many of the more expensive
tickets presented for sale, particularly Hendrix, Led Zeppelin, Elvis, The Rolling Stones and The
Beatles ticket stubs, have been reproduced or have been bought
previously as reproductions and modified in order to mis-represent them
as being originals.
At least one of the fraudulent sellers has slipped under the feedback radar. Having observed this shady entity's 100% positive e-bay feedback, innocent
buyers assume their purchases to be authentic and safe, and subsequently
have bid on and purchased a stub, left a buyer's positive
feedback (which cannot be edited) and learned afterwards, sometimes
years afterwards, that they had purchased
a worthless counterfeit.
And although this has gone on for a long time and has been reported
,
it is a real concern and
it does persist
which,
in addition to the fraud perpetrated against the buyer, has created
false values to be listed as valid comparable sold prices further
misleading buyers
and damaging the legitimate market
value.
All
items' condition are described by & to be considered by their
photos and are 100% authentic. If you care to, you can study my reviews.

I have sold ticket stubs for many years with and without grading without ever needing to return one ticket.
As of this listing, PSA pop 0.