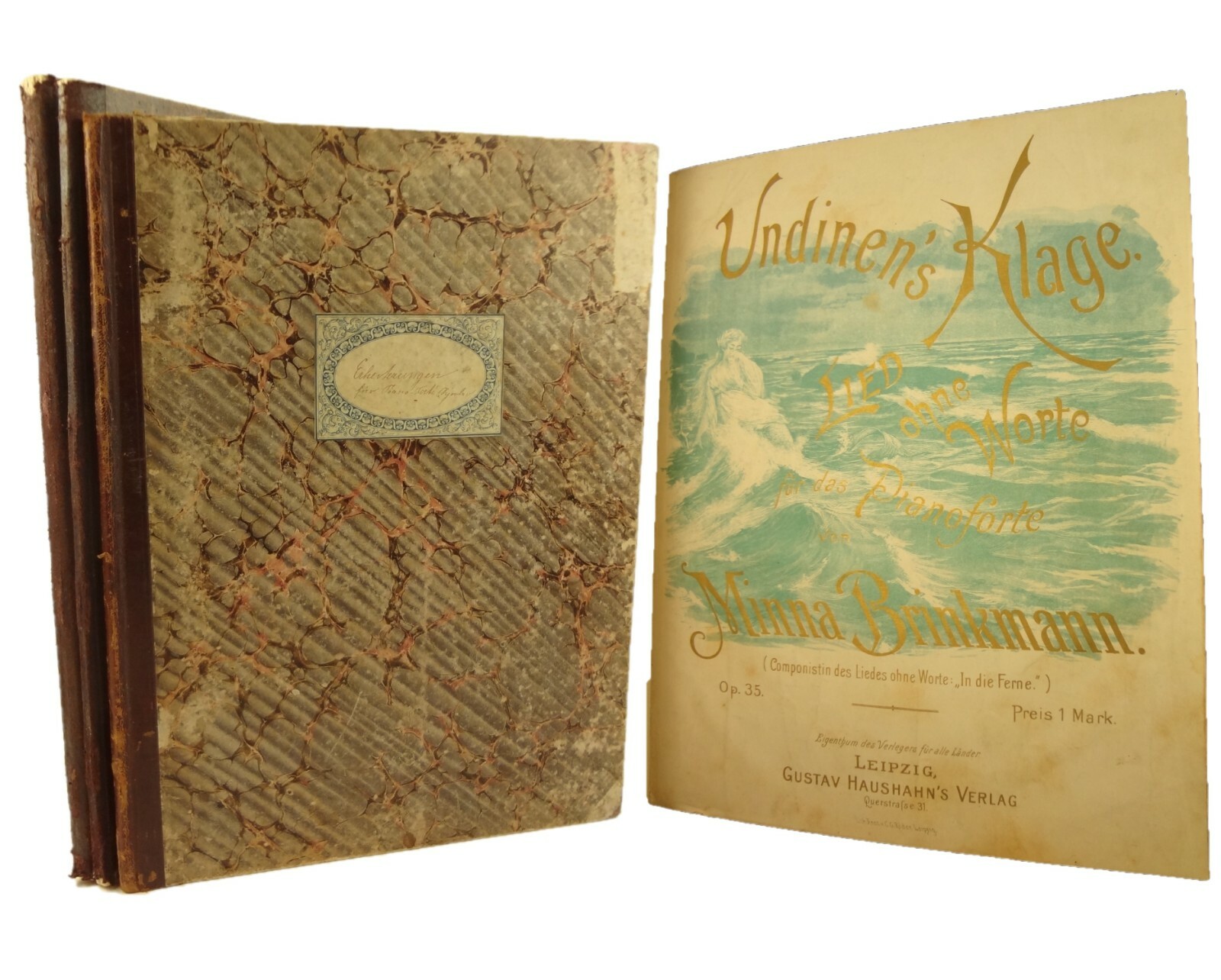 Price: 69.99 USD
Stamp Details:
19th century (mostly) German piano music, including Mozart, etc.. (notebooks)




Collection of three piano notebooks.  Mostly, they are short sections of works for personal playing, but there are several extended works.  I really like the delightful 19th century typography, especially with several of the title pages.
The works are mostly German, with the stamps of many German music dealers on the title pages (I found one Italian work, and one American).  Many of the works include accompanying vocals.
The pages are mostly free of annotations excepting just several works with fingerings written in.
Artists include (among many others): Mozart, Schumann, Brinley Richards, Otto Fischer, Fink, Gustav Merkel, August Schaffer, etc..
Physical Attributes –
The two brown books are in a folio size, the marbled book is more a quarto. There are many works bound into each volume. One of the brown volumes has two smaller works bound-in, along with folio sized works.
Condition –
See pictures, and:  
Recreations (Hegar) – Wear and rubbing to binding; mark at top-right front board where sticker was removed. Some toning, thumbing, and foxing throughout. "Rudolf Schinz" stamped at top of title page, and one pencil mark on title page. No annotations throughout. 
Brown Book 1 – Names at top of first inserted book, "Anna (Chratal?), "Julie (Voegeli?)" (also on second). Tear to page 5 and following, repaired. Toning, edge chip and occasional fox spot throughout. European stamps of music shops on title pages throughout. Colored pencil mark on title page of Mein Reichthum and Speier. Some annotations on Baumgartner work. Crack at gutter near 2/3 way through. 
Brown Book 2 – Bottom right top corner bumped. Same stamps, toning, foxing, chips, thumbs, etc.. Schumann work annotated heavily.