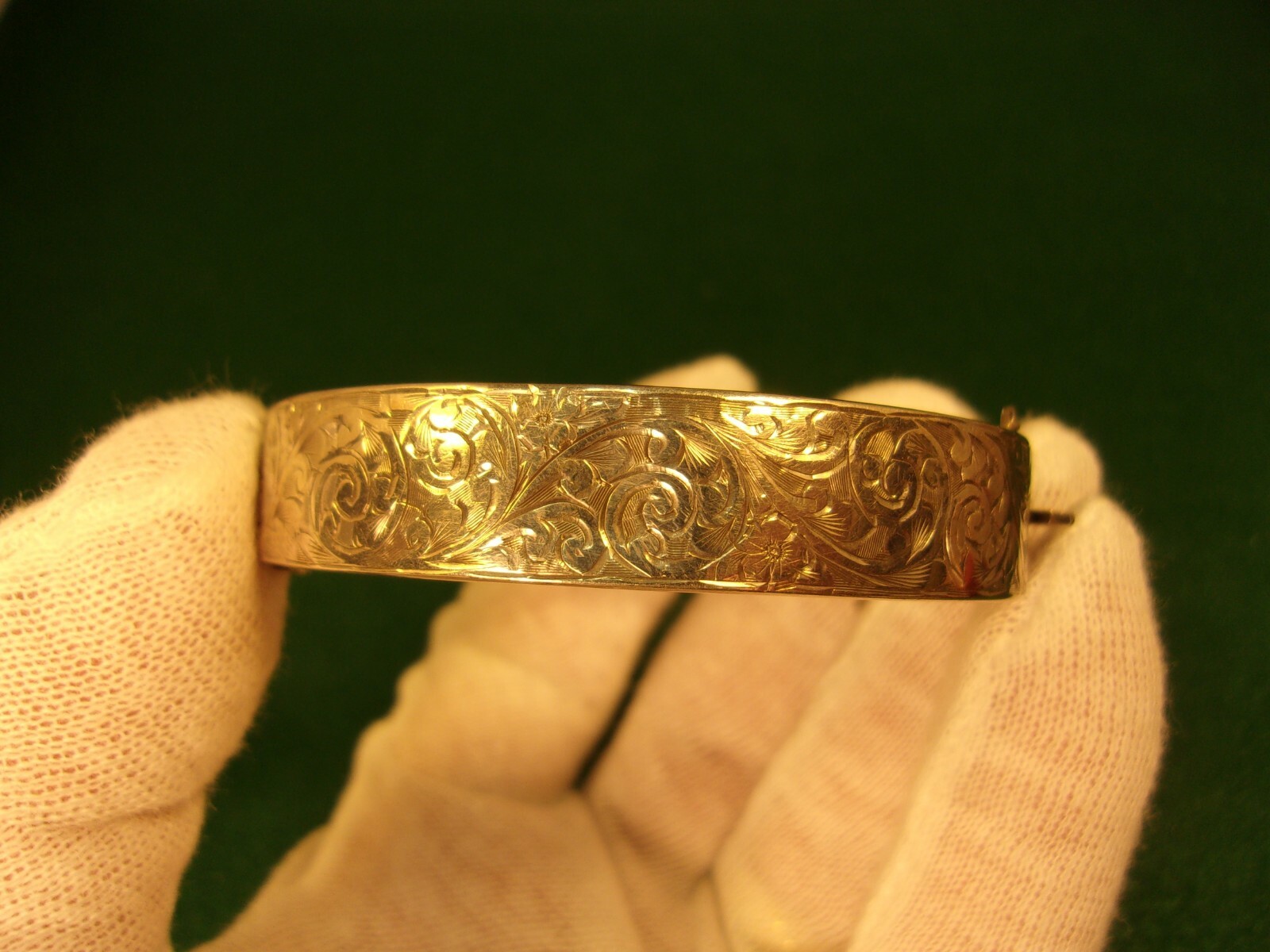 Price: 67.76 USD
Stamp Details:
#2 of 7, GORGEOUS VTG VICTORIAN STYLE STERLING SILVER "PUFFY" BANGLE BRACELET




IF YOU LIKE VINTAGE AND ANTIQUE STUFF, PLEASE CONTINUE TO COME BACK OVER THE NEXT FEW WEEKS AND MONTHS, AS I AM CONSTANTLY LISTING NEW ITEMS VIRTUALLY DAILY…
PLEASE CHECK OUT OUR NEWEST VINTAGE & ANTIQUES COLLECTIBLES STORE — "DALLAS VALLEY DISCOVERIES", OR EBAY ID: DALLASVALLEYDISCOVERIES, FOR MORE GREAT ITEMS…  
I AM CONSTANTLY ON A BUYING SPREE (MOSTLY ESTATE AND ANTIQUE AUCTIONS), SO I HAVE LITERALLY HUNDREDS OF ITEMS TO LIST AS FAST AS I CAN.  ALL KINDS OF SMALLS AND LARGER ANTIQUES AND VINTAGE ITEMS.  
I HAVE SOME MORE GOLD AND SILVER TO LIST NOW.  MOST ARE MARKED AS STERLING OR GOLD AND HAVE TESTED AS SUCH.  ALSO, MOST OF THE SILVER HAS AT LEAST SOME TARNISH OR PATINA ON IT.  I WILL LEAVE THE POLISHING TO THE TASTES OF THE NEW OWNER.
(A QUICK COMMERCIAL)…  IF YOU ARE
LOOKING FOR SOME MORE SIMILAR (or RELATED)
COLLECTIBLES, PLEASE CLICK SOME OF MY OTHER EBAY STORE CATEGORIES (Jewelry – Fine Bracelets)(Jewelry – Bracelets (& Lots))(Jewelry – All "Puffy" Bangles)(Jewelry – Fine Cuff Bracelets)(
Collectibles – Enamels & Sim's)(Gold – 9k-10k-12k-14k-15k-18k+)(Jewelry – Gold Filled & RGP)(Gold Filled-Plated-RGP-Vermeil)(Sterling Silver + 800-835-900+)(Jewelry – Southwestern, Mexico)(Jewelry – Middle East, Tribal)(Jewelry – Fine & Costume Asian)(Gold – Victorian & Edwardian)(Gold – Art Deco & Art Nouveau)(Gold – "Nugget" Style Jewelry)(Gold & Silver – Black Hills+++)(Jewelry – Charms, Ch Bracelets)(Antique/Vintage Advertising)(Jewelry – Sterling & Marcasite)(Jewelry – Gold/Silver Cameos)(Jewelry – All Turtles & Frogs)(Jewelry, Gold/Silver Cats/Dogs)(Jewelry, Gold/Silver Butterfly)(Jewelry – Military Related)(Jewelry – Charms, Ch Bracelets)(Jewelry – Rhinestone – Vtg/Ant).
THESE NEXT SEVEN LOTS ALL HAVE LADIES VINTAGE-TO-ANTIQUE VICTORIAN, ART NOUVEAU/DECO, OR SOUTHWESTERN AMERICANA STERLING SILVER BANGLE BRACELETS, RANGING FROM AS NARROW AS 2.5mm (APPROX.) TO AS WIDE AS 15.6mm (APPROX.).  
PLEASE NOTE:  THE LAST PHOTO SHOWS THE BRACELETS TOGETHER, FOR MEANS OF COMPARISON.  HOWEVER, THIS LISTING IS FOR JUST THE ONE CUFF BRACELET THAT'S SHOWN IN THE REST OF THE PHOTOS, ONLY.
HERE IS ANOTHER WONDERFUL VINTAGE VICTORIAN or ART NOUVEAU STYLE LADIES STERLING SILVER "PUFFY" (HOLLOW) HINGED BANGLE BRACELET.  IT IS FULLY HALLMARKED WITH BRITISH STAMPS THAT READ AS FOLLOWS:  
"(S) & (P) (ANCHOR)(PASSANT LION)(B)", WHERE THE "S" AND THE "P" ARE SUNKEN/EMBOSSED; AS ARE THE OTHER MARKS (AS PRESENTED IN THE PARENTHESES).  I HAVE GRACIOUSLY BEEN TOLD BY A FELLOW EBAYER THAN THESE HALLMARKS DATE THE BANGLE FROM 1951 – 1952 AND THAT IT WAS MADE IN BIRMINGHAM, ENGLAND.
IT MEASURES APPROX. 2 5/16″ WIDE x 2″ TALL (BOTH ARE INSIDE MEASUREMENTS, SIDE TO SIDE, AND TOP TO BOTTOM.  IT ALSO MEASURES APPROX. 12.6mm WIDE x 2.8mm THICK (A BIT LESS THAN 1/8″ THICK).  
IT DOES HAVE A COUPLE OF ISSUES, INCLUDING:  THE SAFETY CHAIN IS BROKEN NEAR ITS CENTER; THERE IS A SIGNIFICANTLY LARGE DENT ON THE TOP (FLORAL) CENTER AREA, AS I TRIED TO SHOW IN AS MANY PHOTOS AS I COULD; PLUS THE BOTTOM (OUTSIDE) HAS QUITE A FEW SCRATCHES AND LIGHT SCUFFS, ALSO AS SHOWN.  
EVEN SO, THE BRACELET IS STILL QUITE WEARABLE AND IS STILL IN VERY GOOD CONDITION, OVERALL (ESPECIALLY GIVEN ITS AGE AND PROBABLE USE).  THE TOTAL WEIGHT OF THE LOT IS 17.75 GRAMS.  
PLEASE NOTE:  I AM NOT A JEWELER, OR ANY OTHER TYPE OF GEM EXPERT, SO I CAN'T (AND DON'T TRY TO) ACCURATELY GRADE GEMS, OR TRY TO PERFECTLY SIZE THEM.  I WILL GIVE MY BEST EFFORT TO GIVE YOU MY "BEST GUESS" ON THESE TYPES OF THINGS, GIVEN MY OWN PERSONAL EXPERIENCES, BUT THEY ARE NOT GUARANTEES, AT ALL.  BUT, IF THERE ARE GEMSTONES IN THIS PARTICULAR LISTING, THEY HAVE BEEN ELECTRONICALLY TESTED, AND ARE GUARANTEED TO BE AS LISTED.  ALSO, I AM WEARING MY OWN WEDDING RING IN THESE PHOTOS, SO IF YOU ARE CONSIDERING A RING (OR RINGS) IN THIS LISTING, IT WILL BE FOR THE OTHER RING(S) SHOWN IN THE PHOTOS.  THANKS!
THE PICTURES ARE TO BE CONSIDERED AS PART OF THE DESCRIPTION.  PLEASE REVIEW THEM FOR A BETTER IDEA OF VARIETY AND CONDITION, AND I WOULD BE HAPPY TO ANSWER ANY QUESTIONS YOU MIGHT HAVE.  ENJOY!
SHIPPING WILL BE $5.75 INSURED USPS FIRST CLASS, AND I WOULD BE MORE THAN WILLING TO COMBINE SHIPPING. 
I DON'T OFFER A RETURN POLICY, BUT, I WILL STAND BEHIND MY LISTINGS.  IF I MAKE A MISTAKE ON MY LISTING, OR I MISUNDERSTAND AN ITEM OR MISS A RELEVANT FLAW ON THE ITEMS UP FOR BID, I WILL DO ANYTHING IN MY POWER TO MAKE THINGS RIGHT FOR THE BUYER, SO BID WITH CONFIDENCE!!!
THANKS FOR LOOKING!