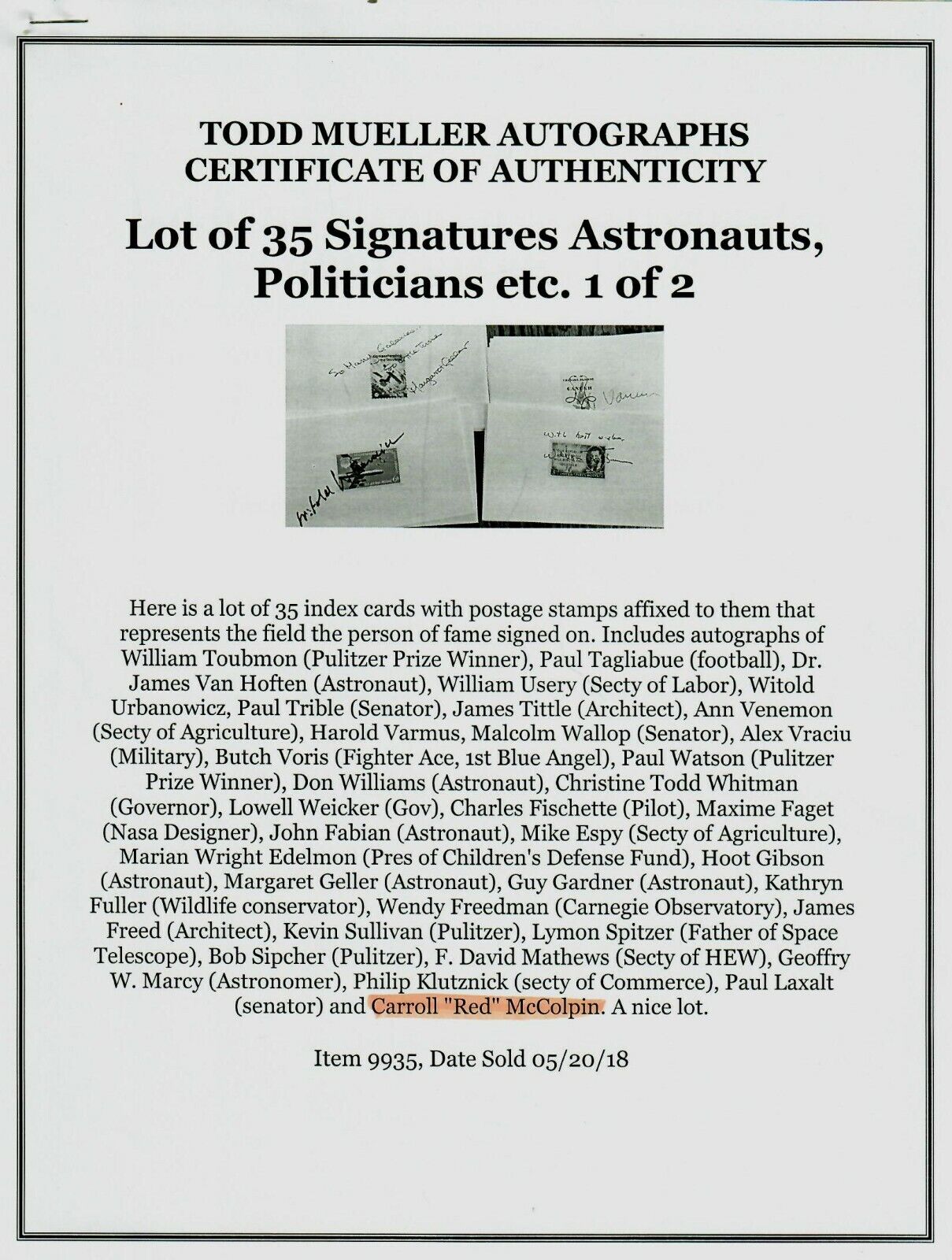 Price: 69.99 USD
Stamp Details:
"Astronaut" Don Williams Signed 3X5 Card W/ RARE Stamp Todd Mueller COA




Up for auction 
"Astronaut" Don Williams Signed 3X5 Card W/ RARE Stamp . 
This item is certified authentic by Todd
Mueller Autographs and comes with their Certificate of Authenticity.
ES – 8188
Captain Donald
Edward Williams (February 13, 1942 – February 23, 2016) was an
American naval officer and aviator, test pilot, mechanical engineer and NASA astronaut. He logged a total of 287 hours and 35 minutes
in space. Williams was born February 13, 1942, in Lafayette, Indiana and
raised in the nearby town of Green Hill. He graduated
from Otterbein High School in Otterbein in 1960. He
earned a Bachelor of Science degree
in Mechanical Engineering from Purdue University in 1964. Williams received his
commission through the Naval ROTC program
at Purdue University. He
completed flight training at Pensacola, Florida, Meridian, Mississippi and Kingsville, Texas, receiving his Naval Aviator wings in
May 1966. After A-4 Skyhawk training,
he made two Vietnam War deployments
aboard the aircraft carrier USS Enterprise with
Attack Squadron 113 (VA-113). He served as a flight instructor in Attack Squadron 125 (VA-125) at Naval Air Station Lemoore, California for two years and transitioned to the A-7 Corsair II aircraft. He made two additional Vietnam
deployments aboard Enterprise with Carrier Air Wing 14 staff
and Attack Squadron 97 (VA-97). Williams completed a total of
330 combat missions. In 1973,
Williams attended the Armed Forces Staff College.
He graduated from the U.S. Naval
Test Pilot School at NAS Patuxent River, Maryland, in June 1974, and was assigned to the Naval Air Test
Center's Carrier Suitability Branch of Flight Test Division. From August 1976
to June 1977, following reorganization of the Naval Air Test Center, he
was head of the Carrier Systems Branch, Strike Aircraft Test Directorate. He
reported next for A-7 refresher training, and was assigned to Attack Squadron
94 (VA-94) when he was selected as an astronaut candidate by NASA.
He logged more than 6,000 hours of flying time, which includes 5,700 hours
in jets and 745 carrier
landings. Selected by NASA in January 1978, Williams became
an astronaut in August 1979, qualified for assignment as a pilot on
future Space Shuttle flight
crews. He then had various support assignments, including working at the Shuttle
Avionics Integration Laboratory (SAIL) as a test pilot, and at
the Kennedy Space Center participating
in orbiter test, checkout, launch and landing operations. From September 1982
through July 1983, he was assigned as the Deputy Manager, Operations
Integration, National Space Transportation System Program Office at the Johnson Space Center. From
July 1985 through August 1986, Williams was the Deputy Chief of the Aircraft
Operations Division at the Johnson Space Center, and from September 1986
through December 1988, he served as Chief of the Mission Support Branch within
the Astronaut Office. Williams served as pilot on STS-51-D in 1985, and was the spacecraft commander
on STS-34 in 1989.