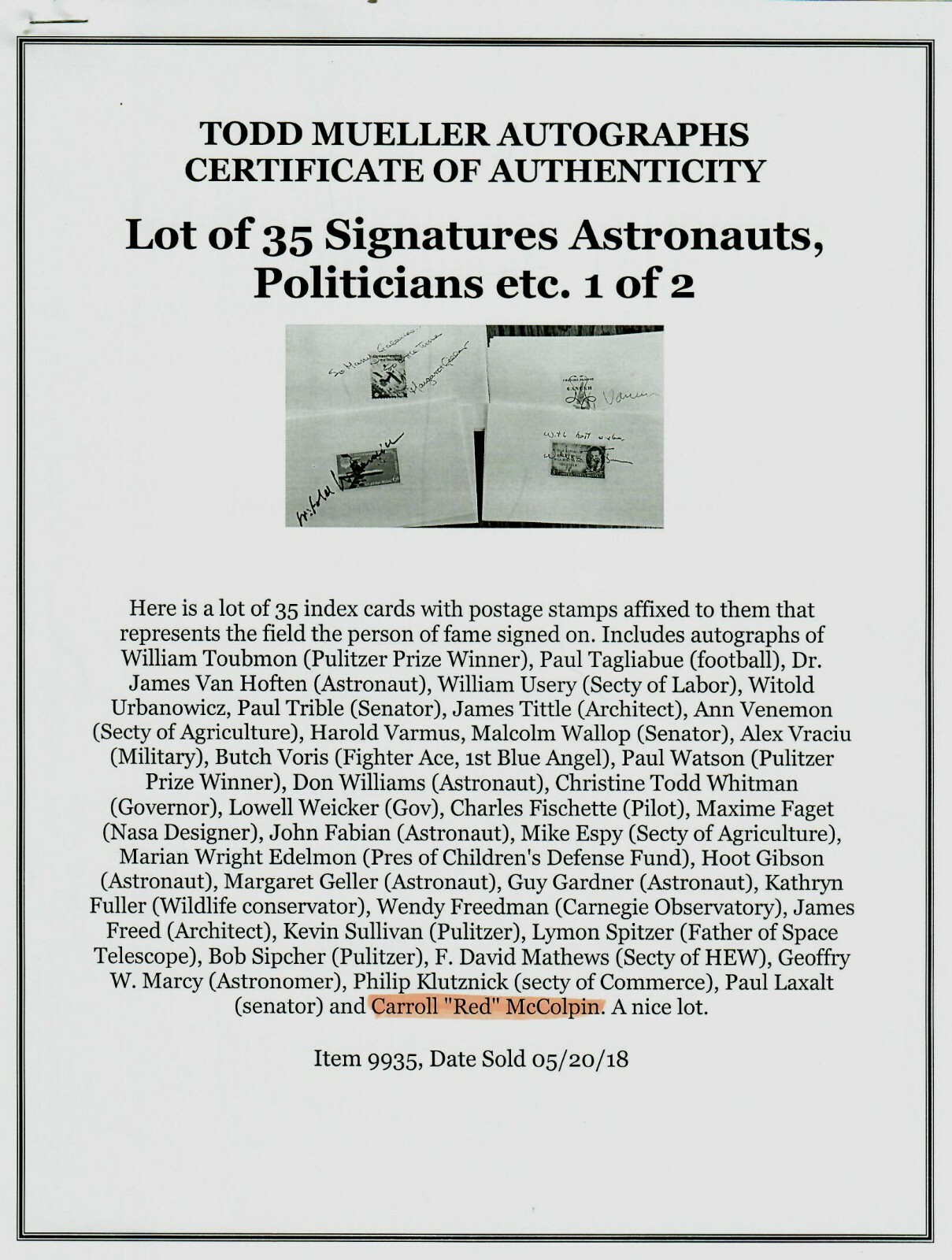 Price: 69.99 USD
Stamp Details:
"Astronaut" John Fabian Signed 3X5 Card W/ RARE Stamp Todd Mueller COA




Up for auction 
"Astronaut" John Fabian Signed 3X5 Card W/ RARE Stamp . 
This item is certified authentic by Todd
Mueller Autographs and comes with their Certificate of Authenticity.
ES – 8183
John
McCreary Fabian (born
January 28, 1939) is a former NASA astronaut, Air Force officer, and director who flew two Space Shuttle missions and on the development of the
Shuttle's robotic arm. He later led the Air Force's space operations. Born
January 28, 1939, in Goose Creek, Texas, but
considers Pullman, Washington, to be
his hometown. He was active in the Boy Scouts of America where
he achieved its second highest rank, Life Scout. Recreational interests include politics and environmental advocacy. In
1998 he retired to Port Ludlow, Washington,
bordered by Hood Canal and
the Olympic Mountains on
northwest Washington's Olympic Peninsula. In 2002 he helped form the Hood Canal
Coalition, an environmental watchdog group opposing a new industrial harbor
complex and a gravel mine's shipping operation slated to transverse the Hood Canal Bridge. From
2000 to 2011, he participated in the "Lunch with an Astronaut" and
"Astronaut Encounter" programs at Kennedy
Space Center Visitor Complex. Graduated from Pullman High School,
Pullman, Washington, in 1957; received a Bachelor of Science degree
in Mechanical Engineering from Washington State
University in 1962; a Master of Science degree in Aerospace Engineering from
the U.S. Air Force Institute of
Technology in 1964; and a Doctorate in Aeronautics and Astronautics from the University of Washington in
1974. While at Washington State University, he was a member of the Phi Sigma Kappa fraternity. Member of Tau Beta Pi and Sigma Tau engineering honor societies.[1] WSU Commander of Arnold Air Society 1960–61.
Fabian, an Air Force ROTC student at Washington State
University, was commissioned upon graduation in 1962. After an
assignment at the U.S. Air Force Institute of
Technology at Wright-Patterson Air Force
Base, Ohio, he was assigned as an aeronautics engineer in the
service engineering division, San Antonio Air Material Area, Kelly Air Force Base, Texas.
He then attended flight training at Williams Air Force Base, Arizona, and subsequently spent 5 years as a KC-135 co-pilot, aircraft commander, and instructor pilot at Wurtsmith Air Force Base, Michigan. He saw action in Southeast Asia, flying 90 combat missions during the Vietnam War. Following additional graduate work at the University of Washington,
he served 4 years on the faculty of the Aeronautics Department at the U.S. Air Force Academy in Colorado where he was a tenured associate professor. He
has logged 4,000 hours flying time, including 3,400 hours in jet aircraft. Selected
as an astronaut candidate by NASA in January 1978, and became an astronaut in
August 1979. During the following years, he worked extensively on satellite
deployment and retrieval activities, including development of the
Canadian Remote Manipulator System.
A veteran of two space flights, he has logged over 316 hours in space. He
served as a mission specialist on STS-7 (June 18-June 24, 1983) and STS-51G
(June 17–24, 1985). He was scheduled to fly next in May 1986 on STS-61G, and
was also in training for space shuttle life science mission SLS-1. Fabian
instead left NASA on January 1, 1986 to become Director of Space, Deputy Chief
of Staff, Plans and Operations, Headquarters USAF. olonel
Fabian retired from the USAF in June 1987 and joined Analytic
Services, a non-profit aerospace public service research institute
in Arlington, Virginia, where
he retired as President and Chief Executive Officer in 1998. He currently lives
in Port Ludlow, Washington. Fabian continues to serve as an independent
consultant and public speaker on the NASA space program and environmental stewardship.