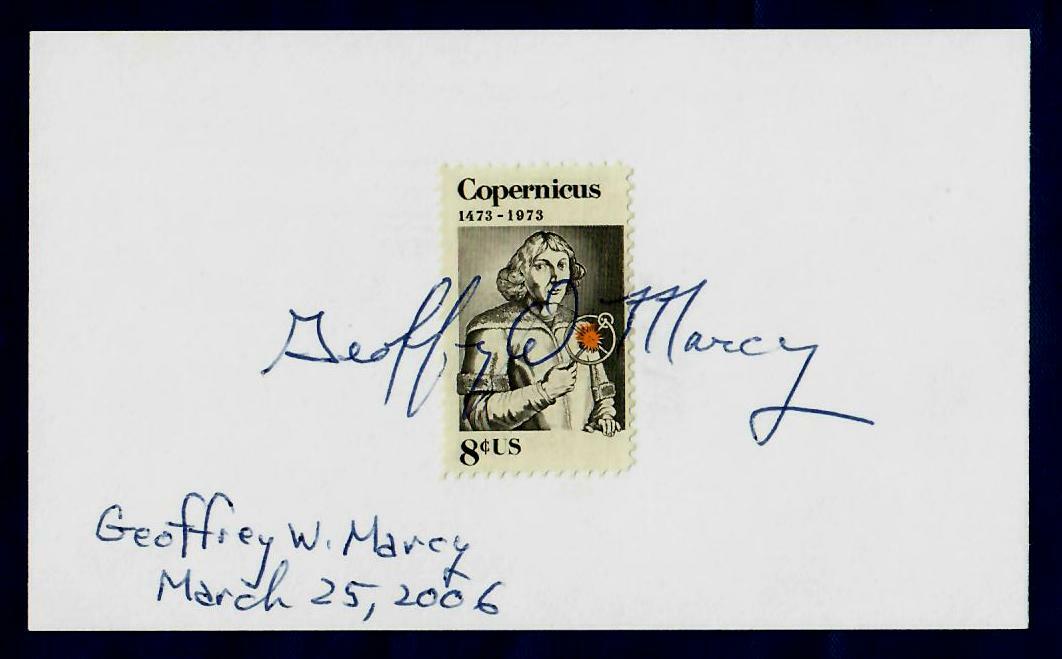 Price: 69.99 USD
Stamp Details:
"Astronomer" Geoffrey Marcy Hand Signed 3X5 Card W/ RARE Stamp Todd Mueller COA




Up for auction 
"Astronomer" Geoffrey Marcy Hand Signed 3X5 Card W/ RARE Stamp. 
This item is certified authentic by Todd
Mueller Autographs and comes with their Certificate of Authenticity.
ES – 8170
Geoffrey William Marcy (born September
29, 1954) is an American astronomer. He is one of the pioneers and leaders in the
discovery and characterization of exoplanets. Marcy was Professor of Astronomy at the University of California,
Berkeley and an Adjunct Professor of Physics and Astronomy
at San Francisco State
University before stepping down in October 2015. His colleagues
in the Berkeley Astronomy Department forced him to resign after allegations of
sexual harassment. Marcy and his research teams are recognized for
discovering many extrasolar planets,
including 70 out of the first 100 known exoplanets and also the first planetary system around a
Sun-like star, Upsilon Andromedae. Marcy
was a co-Investigator on the NASA Kepler mission that discovered over 4000 exoplanets. Early
collaborators include R. Paul Butler, Debra Fischer and Steven S. Vogt. Later collaborators include Jason Wright,
Andrew Howard, Katie Peek, John Johnson, Erik Petigura, Lauren Weiss, Lea
Hirsch and the Kepler Science Team.