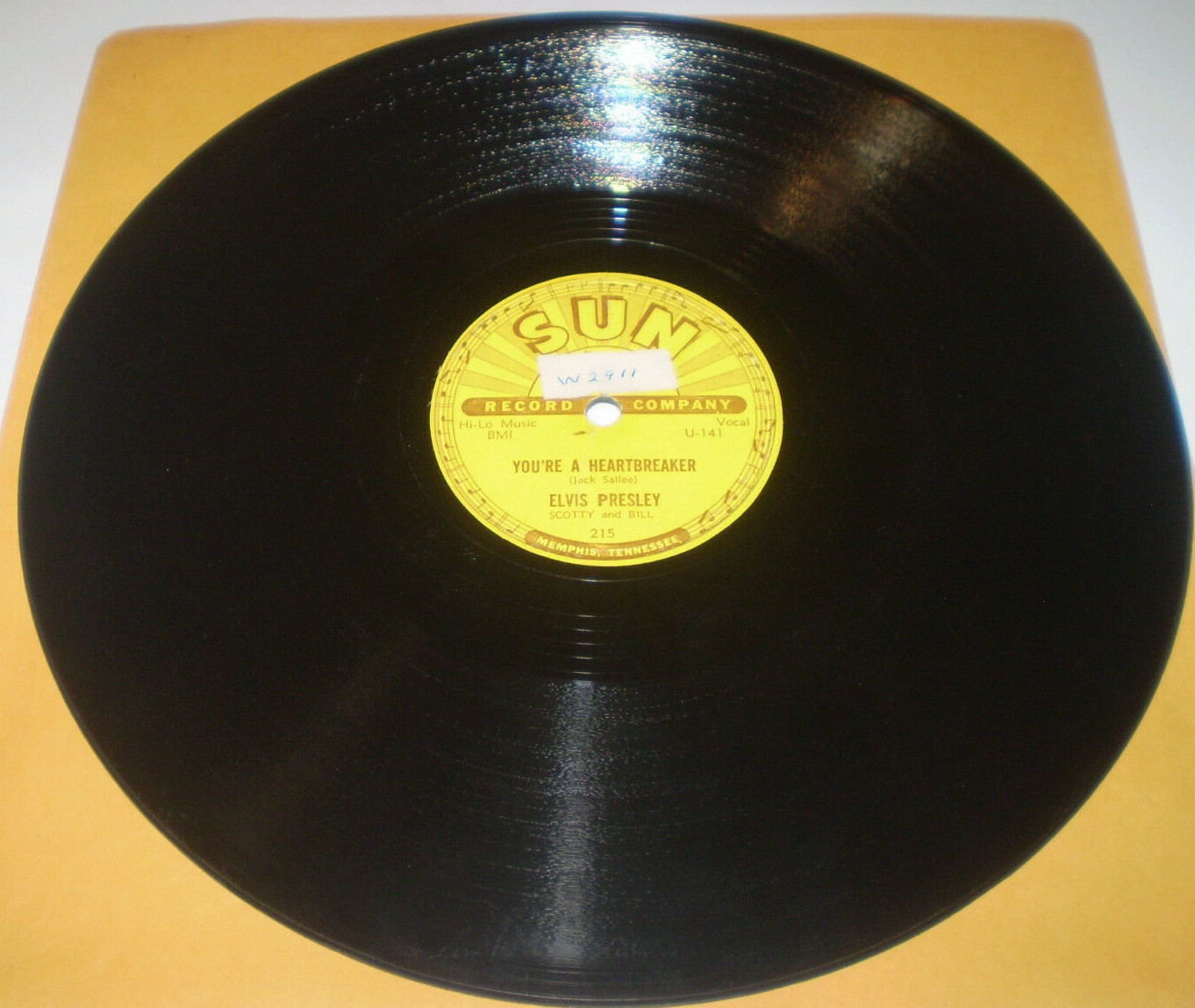 Price: 3,000.00 USD
Stamp Details:
Elvis Presley Sun 215 Milkcow Blues Boogie RARE EARLY PROMO 78 Plays Great READ




SUN 215
INCREDIBLY RARE 'SAMPLE' STAMP (read below)

ON ELVIS' RAREST SUN #215 78 LABEL.  These Promos would have been among the very first pressings of these Sun records. 
(More info on the
stamp here: 
https://www.memorabilia.expert/shop/elvis-presley-sun-promo-records-complete-set-of-five-w-red-sample-stamp/)  

This disc represents the Birth of Rock and Roll, from the above link seems possible, perhaps likely, that Sam Phillips himself stamped this and sent/delivered it to a radio station to try and 'drum up interest' in this new young guy, Elvis… and you know how it went.

MILKCOW BLUES BOOGIE / YOU'RE A HEARTBREAKER

CONDITION
HIGH GLOSS GREAT PLAYING COPY.  THERE IS AN UNFEELABLE INTERNAL PRESSURE LINE CRACK UNDERNEATH THE LABELS OUT INTO THE PLAYING SURFACE, NOWHERE CLOSE TO THE OUTER EDGES OF THE DISC SO THE RECORD IS STABLE AND PLAYS GREAT!  SHELLAC IS SUPER HIGH GLOSS AND CONSERVATIVELY E- CONDITION AND PLAYS LOUD AND CLEAR, ANY IMPACT (IF ANY) IS WELL BELOW THE LOUD BRIGHT MUSIC.  AS A ONE OF A KIND HISTORICAL RECORD, YOU'D PREFER THIS THAN AN AVERAGE COPY.  GREAT FOR PLAYING AND/OR GREAT FOR DISPLAY. THE MASKING TAPE SHOULD COME OFF WITH SOME LIGHTER FLUID.  I'LL LEAVE THAT TO THE FUTURE OWNER.

THIS 78 WILL BE PROFESSIONALLY PACKED IN AN OVERSIZED BOX IN ORDER TO HELP ENSURE ITS SAFE ARRIVAL. 

PLEASE ASK ANY QUESTIONS AND MAKE ANY SPECIAL SHIPPING REQUESTS/ARRANGEMENTS PRIOR TO BIDDING.