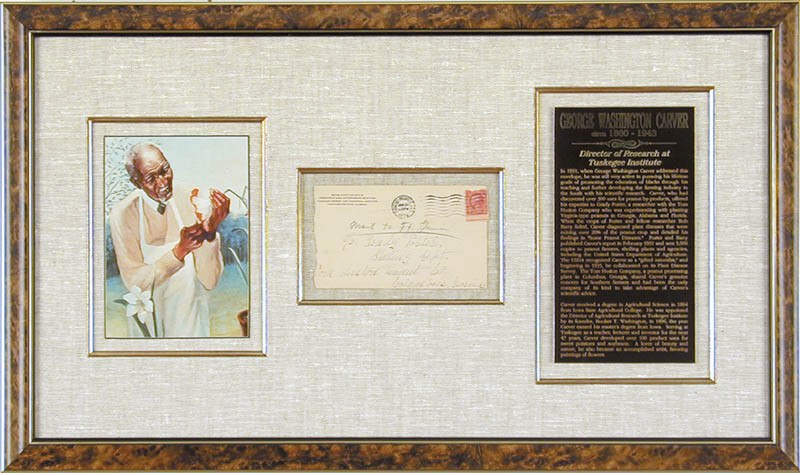 Price: 1,000.00 USD
Stamp Details:
GEORGE WASHINGTON CARVER – AUTOGRAPH ENVELOPE UNSIGNED 01/28/1931




HistoryForSale

tm

Autographs & Manuscripts
Make an Offer Today and Get a Quick Response!
GEORGE WASHINGTON CARVER – AUTOGRAPH ENVELOPE UNSIGNED 01/28/1931 – HFSID 176368

GEORGE WASHINGTON CARVER

George Washington Carver addresses an envelope to Mr. Grady
Porter.

Autograph
Envelope
, unsigned, 6×3½. 2-cent
George Washington
stamp
affixed,
postmarked Tuskegee Institute, Alabama, January 28, 1931.
Addressed by Carver to:
"
Mr. Grady Porter, Shelling Dept., Tom Huston
Peanut Co., Columbus, Georgia.
" Imprinted return address at upper left
margin, in part: "Research and Experiment Station, Tuskegee Normal and
Industrial Institute, Tuskegee Institute, Alabama". Pencil note (unknown hand)
above address: "
Mail to Ft. Gaines
".
GRADY PORTER
was a
researcher with the Tom Huston Company, a peanut processing plant in Columbus,
Georgia. Beginning in mid-1930, Carver began offering his expertise to Porter,
who was experimenting with planting Virginia-type peanuts in Georgia, Alabama
and Florida. After the experimental crops failed, Carver diagnosed plant
diseases that were ruining more than 20 percent of the crop. He detailed his
findings in "Some Peanut Diseases", which was published by Porter and his fellow
researcher, Bob Barry, in February 1931, the month after Carver addressed this
envelope to Porter.
After Porter and Barry sent 5,000 copies of Carver's
report to peanut farmers, shelling plants and agencies, including the United
States Department of Agriculture, the USDA recognized Carver as a "gifted
naturalist", and beginning in 1935, Carver collaborated on the agency's Plant
Disease Survey. Amazingly, the Tom Huston Company, which shared Carver's genuine
concern for Southern farmers, had been the only company of its kind to take
advantage of Carver's scientific advice, although
Carver had developed over
300 uses for peanut by-products. GEORGE WASHINGTON CARVER
(circa 1860-1943)
had received a degree in Agricultural Science in
1894
from Iowa State
Agricultural College. He was appointed the
Director of Agricultural Research
at Tuskegee Institute
by its founder, Booker T.
Washington
, in 1896, the
year Carver earned his master's degree from Iowa. Serving at
Tuskegee for the
next 47 years,
Carver also developed over 100 product uses for sweet
potatoes and soybeans. A lover of beauty and nature, he also became an
accomplished artist, favoring paintings of flowers. Lightly creased and soiled.
Torn open at left edge, nicking the "T" of Tom. Upper center of stamp chipped
away. Overall, fine condition.
Framed in the Gallery of History style:
28½x16¾.

See more material from these signers:
See more listings in our SCIENCE & MEDICINE (1,226) category.
click main eBay images to see larger versions
Images shown may contain our company watermark. The actual document does not contain this watermark
Make an Offer Today and Get a Quick Response!
Our Third & Best Handbook – The One You Want On Historical Documents!

Enhance your collecting experience. Add this definitive guide to historical documents to your autograph purchase. For the experienced and novice collector and for those who just love learning history this beautiful 253-page hardcover volume is for you!

For more information visit our eBay Store and select the Autograph Handbook category or click here.
Gallery of History is the world's largest dealer of authentic autographs and manuscripts. Our inventory contains documents in all areas of interest including presidents, royalty, military, aviation, religion, business, science, celebrities, sports, music, authors and more. Whether looking to add to your collection, acquire a unique centerpiece for the home or office, or as a truly one-of-a-kind gift for someone special, you'll find it here at HistoryForSale. Contact us today and let us assist you in finding that perfect piece.

The Gallery of History, founded in 1981, is a long-standing UACC Registered Dealer, #RD110, and is a long-standing member of the Manuscript Society.

HistoryForSaletm: Gallery of History through HistoryForSale provides eBay users the ability to bid on and purchase from an inventory which has been collected over an amazing 49-year period. The Gallery of History is the largest dealer in the world with an available inventory that exceeds 230,000 rare autographs and manuscripts.

Preserving historical documents is important to us. Your purchase comes to you appropriately protected. Our unframed items are sent to you either in acid-free archival sleeves or have been encapsulated when noted. The majority of our in-house framed items are encapsulated in acid free sleeves to guard against organic acids, mounted in an acid-free enviroment and are framed behind glass or UF3-AR Plexiglas which blocks out most ultraviolet light.

Return Policy: If any substantial defect not described in the item listing is found by the purchaser, the item(s) must be returned within 3 days of receipt. Item(s) may not be returned except for reasons of authenticity or substantial defect in description. We warrant to the original purchaser for a period of ten (10) years from the date of the sale the authenticity of any autograph offered by HistoryForSale. This warranty is limited to a refund of the purchase price upon the return of the merchandise to our parent company Gallery of History in satisfactory condition. Gallery of History is not liable for any other damages, including consequential damages. There are no other warranties of any nature either expressed or implied, including but not limited to the warranties of merchantability and fitness for a particular purpose. Please contact us for an authorization before returning any item(s). A merchandise credit will be issued in the case of an unresolved dispute over the condition of a returned item.

Authenticity: This item has been authenticated and is accompanied by a Certificate of Authenticity issued by our parent company, Gallery of History, Inc. We financially stand behind our COA. Our commitment to authenticity and customer satisfaction are the reasons why we've been able to stay in business for so long (since 1981)! Ask us about our PSA/DNA and JSA authentication guarantee.

Payment – Buyers will be sent payment instructions following their purchase. We accept Visa, MasterCard, American Express & PayPal. PayPal customers must have a confirmed address on file with PayPal. Customers must provide a daytime telephone number to be used in case of any shipping difficulties. Customers are advised that they are responsible for payment of any international duties and/or taxes. Unless otherwise agreed to, complete payment is due within 24 hours of purchase.

Shipping – We ship via FedEx and USPS. Shipping charges are calculated at time of payment and are dependent on the number of items purchased and the destination shipping address. Due to the value of most purchases, a signature is required for delivery. This policy limits our ability to ship to PO Boxes. All international shipments (destinations outside the U.S) will be sent via FedEx. Please feel free to contact us in advance for shipping charges – international customers are encouraged to do so. Please remember to provide a daytime telephone number when payment is made as shipping services such as FedEx require one.