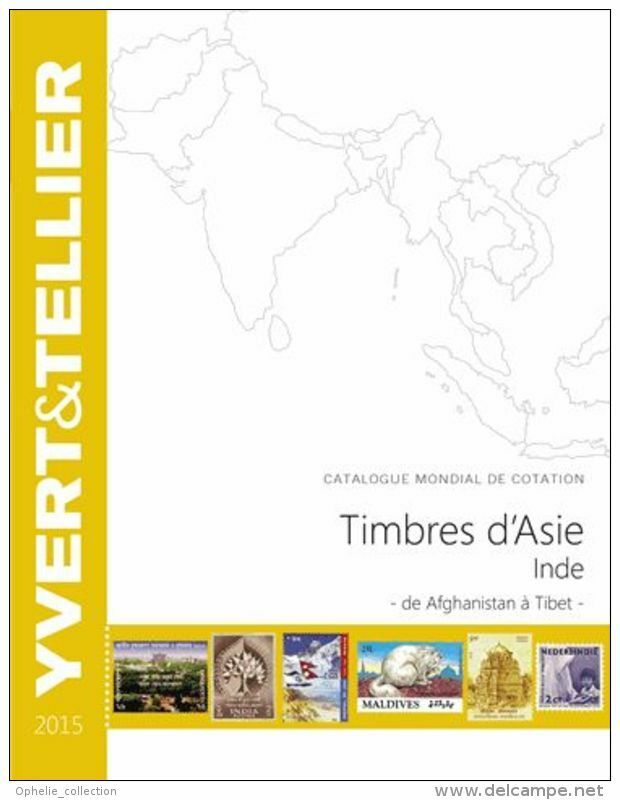 Price: 70.00 USD
Stamp Details:
INDIA – 2015 Catalogue of the stamps of the countries of Afghanistan to tibet




Editions Yvert & Tellier only publishes stamp catalogues of all the countries of the world.
Catalogues in French but with many visuals, a child's play to navigate!
Catalogue of Asian Stamps – India from Afghanistan to Tibet
This volume contains the following emissions:
Afghanistan, Bangkok, Bangladesh, Bhutan, Burma, Brunei, Ceylon, Chamba, Princely States of India, Alwar, Bahawalpur , Bamra, Barwani, Bhopal, Bhore, Bijawar, Bundi, Bussahi, Kashmir, Charkhari, Cochin, Datia, Dhar, Faridkot, Hyderabad, Holkar, Idar, Jaipur, Jasdan, Jhalawar, Jhind, Kishengarh, Las bela, Morvi, Nandgame, Nepal, Nowanuggur, Orcha, Pountch, Rajpeepla, Sirmoor, Soruth, Travancore, Travancore-cochin, Wadhwan, Faridkot, Gwalior, Inde, Inde anglaise, Inde française, Inde néerlandaise, Inde portugaise, Indonésie, Jhind, Malacca, Malaisie, Malaysia, Federated States, Maldives, Nabha, Nepal, Pakistan, Patiala, Siam, Singapore, Sri Lanka, Thailand, Tibet
All inclusive rate (shipping with tracking, management fees, payment fees…..)
Incredible offer on the whole shop: port included for Europe, America and the World!

Particularly interesting for the purchase of the Yvert & Tellier catalogues, voluminous and heavy works whose port is expensive?