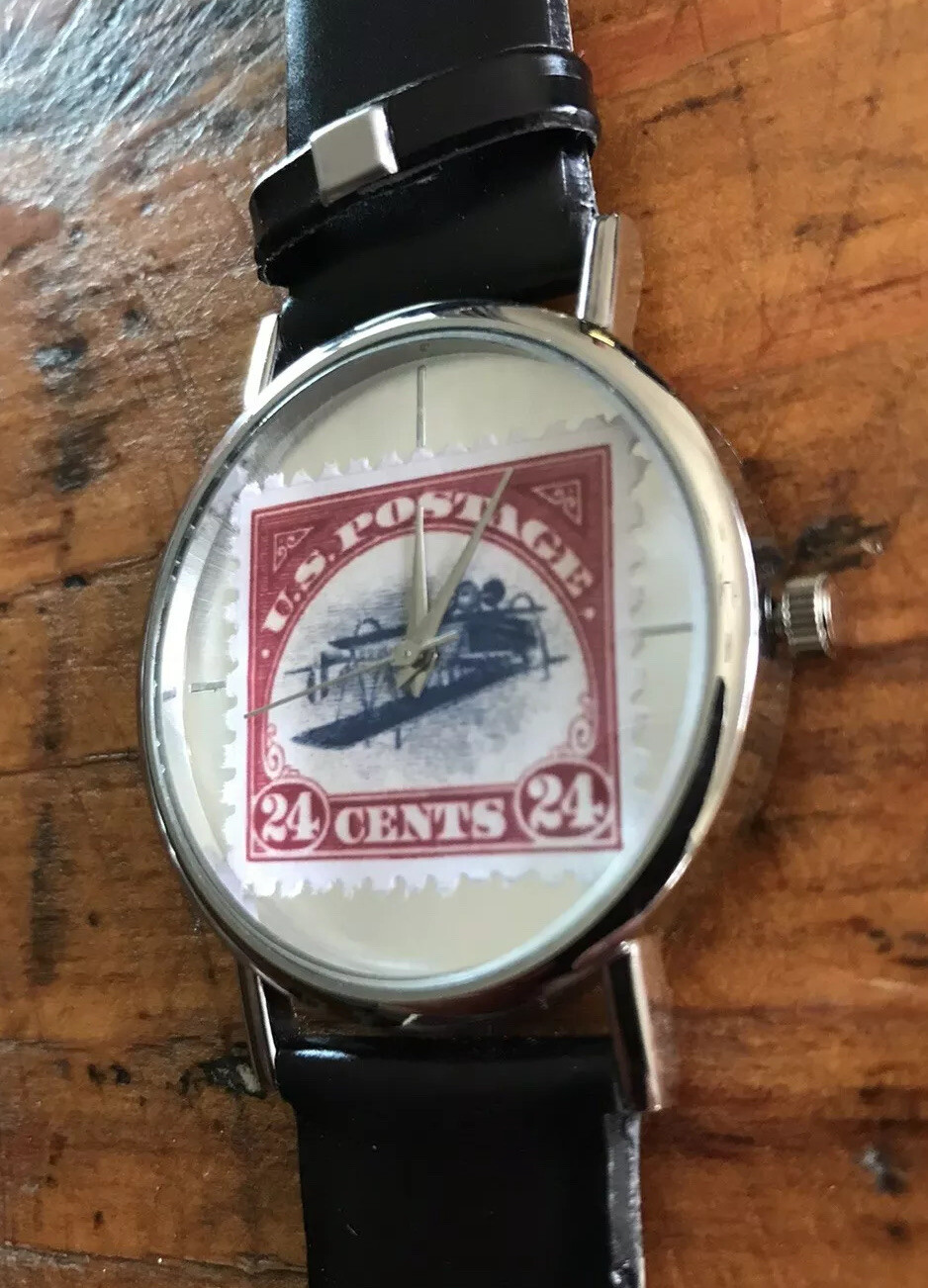 Price: 250.00 USD
Stamp Details:
Inverted Jenny Stamp Watch 24c Rare Vintage Scott C3 US Art Vtg Jewelry Lot




Inverted Jenny Stamp Watch 24c Rare Vintage Scott C3 US Art Repro Jewelry Lot.
Simple. Elegant. Steel Face inverted Jenny Handcrafted Watch.
Limited edition 1/1. Only one in existence as a fine piece of wearable art!
Designed by American Philatelic Society member who shares appreciation for a diamond in the rough philatelic gem.
(See my other watch/stamp listings!)
Wear your favorite stamp on your wrist all the time to tell time! Wonderful conversation starter.
Scott C3 Art impression. 24c. 24 cents. Not a real Jenny stamp: this is an art faux stamp watch.
Plastic case. Metal backing. Faux leather bands. Battery powered quartz movement.
Center knob adjusts minute and hour hands.
See pictures. Various photos display watch movement and assembly process.
Refund policy: Refunds accepted 30 days after delivery.
A 10% restocking fee will apply to jewelry with visible signs of wear.
United States stamp collection, US postage, U.S. stamps. Philately, stamp bourse, stamp dealer, old stamps, historic stamps, rare stamps, No PF certificate, No APS cert. vintage stamps, MNH stamp. Airmail, plane, planes, aviation, aviation history, EFO, biplane, airplane. Box of stamps, old stamps, valuable stamp collection, junk drawer estate find, paper goods. Global aviation history. Travel, traveling, pilot, Wright brothers. SMQ PSA CGC 10 9.8 9.6 9.4 9.2 9. Rating scale. Ungraded.