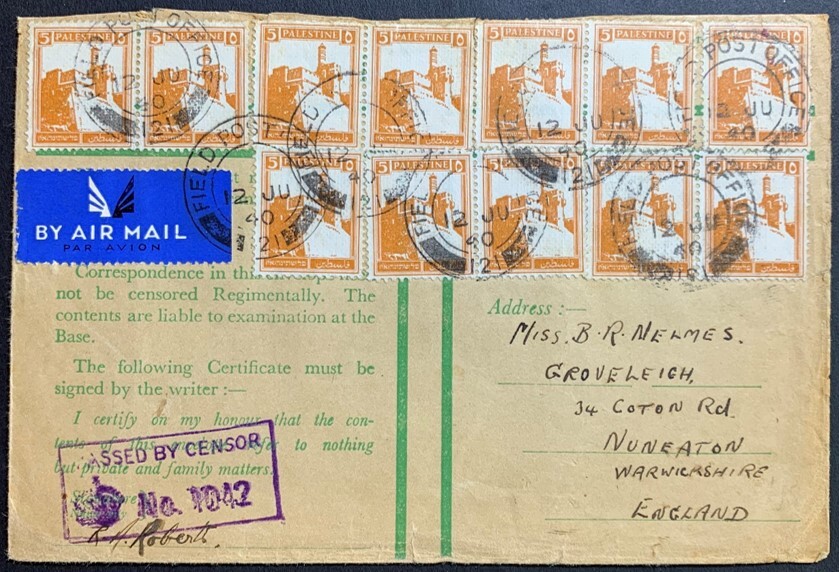 Price: 499.00 USD
Stamp Details:
June 1940 WWII British army airmail cover Palestine 1st horseshoe route flight




Improvised air mail before 'Horseshoe Route' posted after 10 June: 12 JUNE 1940 airmailed
green honour
envelope
from FPO 121 (Jaffa Road, JERUSALEM) to NUNEATON, tied by British airmail etiquette & franked 60m using
12x
5m Mandate pictorals (scarce multiple franking) per the
Imperial Airlines/BOAC
air mail service rate; the cover was
posted 2 days after Italy's entry into the war
and the dramatic change to British air mail routes
in the Mediterranean, but the paid airmail
postage
here would have qualified this cover to be carried on the next available air service.
Here the cover was posted early enough to be on the last batch of mails sent to the UK before the start of the Horseshoe Route:
it was transferred to ALEXANDRIA Egypt and taken with other UK-bound mail which had been 'dumped' there by Imperial Airways flight SW 246 on 10 June (Clark, Ch.3 p.4-5), and from there flown the next day to CAIRO by either of 2 special repositioned flights, the flying boats 'Castor' or 'Cambria'; from there, a week later, again on either of these special flights, the cover was transported south to DURBAN, arriving on either 21 or 23 June, and then transported by sea on the 'Capetown Castle', making this the last air mail prior to the 1st mails sent on the new 'Horseshoe Route' (Clark, Ch.2 p.10-11).
The [eastern originating leg of the] horseshoe route came into effect on 19 June but the first such flight only reached Tiberias on the 27th and Cairo on the 28th. Palestine Gazette #1025 of 27 June (p.718) announced that "The mails for the United Kingdom, Australia, New Zealand, the American Continents, South Africa and certain other countries of the Far East will be despatched by a circuitous route and will be subject to delay, in some cases considerable delay", taking effect on 19 June. Cover passed censor #1042 in Palestine. From July 1940, British military post from Palestine was franked using British
stamps
.
Rare
and important postal history.
—
Most of our merchandise ships out from Israel | orders are combined | additional items are charged 75c:
DOMESTIC services available are Registered mail (default) and courier mail. Please contact us if you desire courier mail.
BUYERS IN ISRAEL: eBay does not recognize Israel as being a "domestic" mailing destination – please contact us to be invoiced and charged $5 for registered mail.
—
OVERSEAS services available are Priority ECO Post registered airmail (default – $15 flat fee) and express EMS mail (3-day / 5-day to-door delivery – $40 flat fee). These options can be selected on check-out. We recognize that the shipping overseas is expensive – only ECO Post shows tracking up to delivery; for less expensive purchases on the understanding of the customer that tracking is not available we can user $5 standard registered mail overseas – please contact us so we can invoice you at this rate.
—
Prospective buyers in countries without postal relations with Israel can receive orders via a third country. Please contact us for this option.
—
To see higher end specialized philatelic items + materials from countries which cannot be displayed on ebay, add d o t com to our our handle name