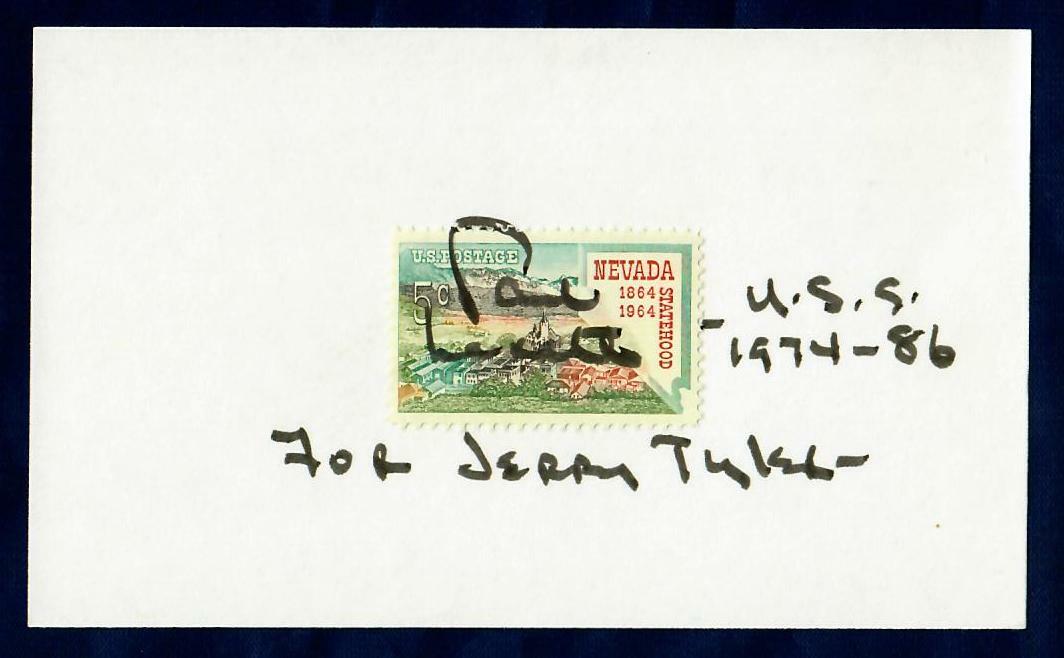 Price: 104.99 USD
Stamp Details:
"Nevada Senator" Paul Laxalt Signed 3X5 Card /W RARE! Stamp Todd Mueller COA




Up for auction 
"Nevada Senator" Paul Laxalt Hand Signed 3X5 Card W/ Rare Stamp. 
This item is certified authentic by Todd
Mueller Autographs and comes with their Certificate of Authenticity.
ES – 8168
Paul
Dominique Laxalt (August
2, 1922 – August 6, 2018) was an American attorney and politician who
was Governor of Nevada from
1967 to 1971 and a United States Senator from
1974 to 1987. He was one of Ronald Reagan's closest friends in politics. After Reagan was
elected President in 1980,
many in the national press referred to Laxalt as "The First Friend."
He was the older brother of Robert Laxalt, who was a noted and prolific writer. He was a
member of the Republican Party.
Laxalt was born on August 2, 1922 in Reno, Nevada. He was the son of Basque parents, Therese (Alpetche) and Dominique Laxalt; both of his parents
emigrated to the United States in the early 1900s from their homeland in
the Pyrenees, which straddle France and Spain. A shepherd,
Dominique became wealthy in the sheep industry. After losing everything in the
early 1920s, he returned to shepherding for the rest of his career. Therese,
who had been trained at Paris's Cordon Bleu cooking school, eventually opened a
restaurant called The French Hotel in Carson City, Nevada. Therese
and Dominique had six children: Paul, Robert (born in 1923), Suzanne (1925), John (1926), Marie
(1928) and Peter (1931). Robert became an author; Suzanne, a Roman Catholic
nun; John, a lawyer and political consultant; Marie, a school teacher; and
Peter (Mick), an attorney.[ The Laxalt children were raised
largely by their mother, as Dominique spent long periods of time away from the
household tending his sheep in the deserts and mountains of Nevada. The
children all helped Therese at The French Hotel. It was there that Paul first
acquired an interest in politics as he listened in on the conversations of the
politicians who patronized the restaurant (including the legendary Sen. Pat McCarran). Paul played on the 1938 state basketball
champion team at Carson High
School[3] before graduating and attending Santa Clara
University. When World War II broke out, Paul joined the U.S. Army and served
as a medic, seeing action in the Battle of Leyte in the Philippines. After the war, he
graduated from the University of Denver (1949)
law school.
After graduating from law school and after serving as a district
attorney, Laxalt enjoyed a successful career as a lawyer. His clients included
George Whittell, who owned a large portion of the Lake Tahoe frontage on the
Nevada side of the lake, Harvey and Llewellyn Gross, who built and ran Harvey's
Wagon Wheel on Lake Tahoe's south shore, and Dick Graves, founder of the Sparks
Nugget. While representing Graves, Laxalt helped win the famous "Golden
Rooster case" in which the federal government tried to confiscate a
15-pound solid gold rooster that Graves displayed near the entrance of his
Golden Rooster restaurant.