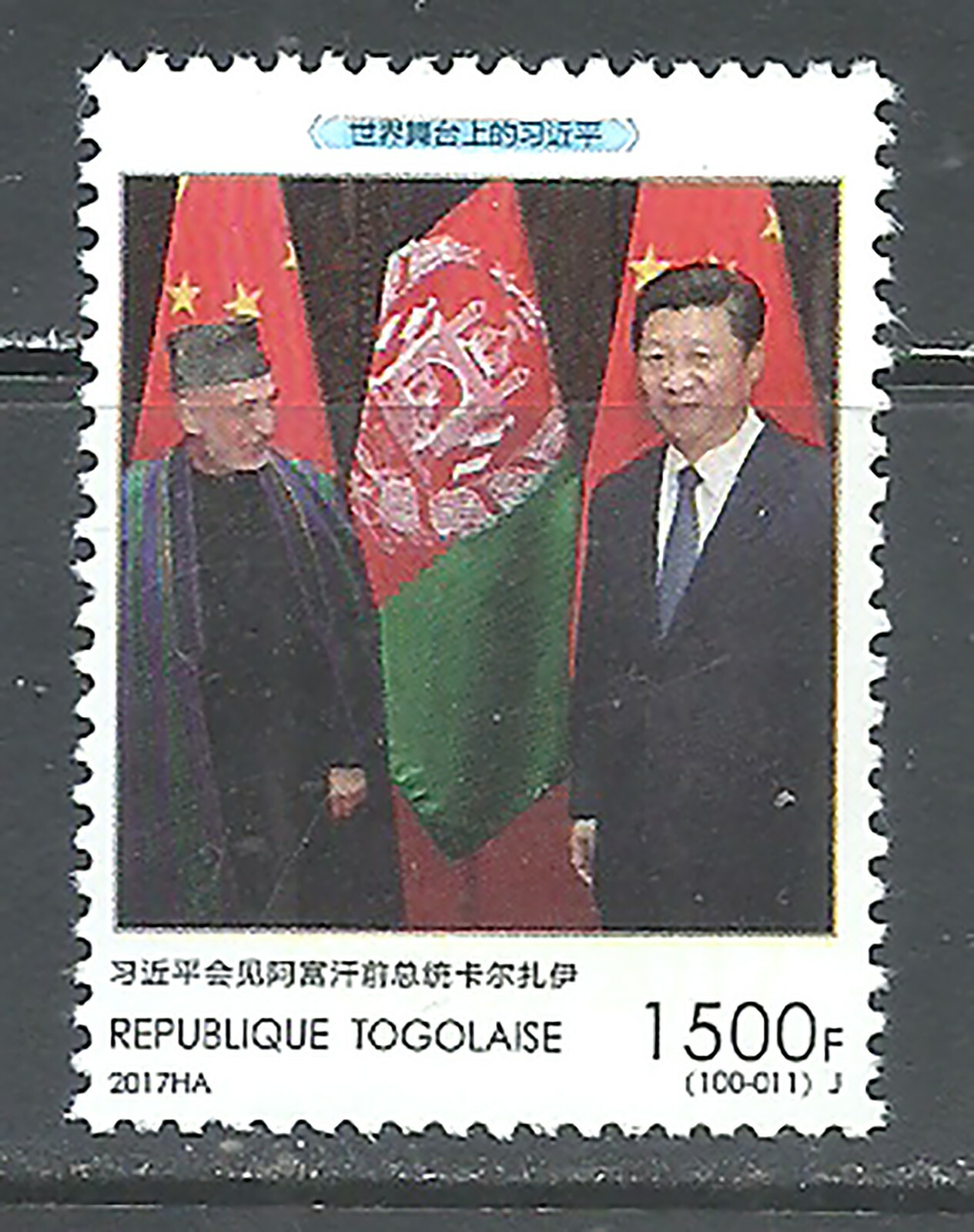 Price: 100.00 USD
Stamp Details:
Stamp MNH China Leader Xi Jinping Afghanistan President Hamid Karzai




Togo 2017 China 
Leader Xi Jinping
   Afghanistan President Hamid Karzai
China Summit of World Leaders Rulers Kings Queens Monarchs
Generals Military Rulers Heads of States Presidents Prime Ministers
C
ondition Superb MNH Mint Never Hinged
Shipping combined you only pay for the first item all others are free
I always use registered mail with tracking code number no exception 
All reasonable offers have a chance of being taken into consideration
I live in a country where animals have no rights and we witness the neglect the cruelty and abuse everyday therefore since twenty three years I have dedicated my life to rescue stray dogs off the streets and try to find them a good loving home and I am proud to say that I have changed the lives of hundreds if not thousands of such creatures. My source of income is only donations from individuals and the proceed from the sale of my stamp collection. After collecting stamps for over fifty years I am now selling all I have to make ends meet and be able to take care of the large number of dogs I have in my shelter among them senior , blind , paralyzed , victims from dog fights competitions , two legged , three legged. When you buy stamps from my store you do put food on the plates of those voiceless creatures as well as help to cover vet bills and provide the basics for those defenseless beings. Myself and the hundreds of dogs under my care thank you for visiting my ebay store and in case there is something you like but believe the price is not fair, please feel free to make us an offer via ebay. Have a nice day and Respect !

PAYMENT : We prefer and recommend Paypal. We also accept most other forms of payments
SHIPPING : Your lot will be mailed within 72 hours after reception of your payment including Saturdays Sundays and Holydays. Kindly wait for our invoice so we combine shipping cost. We sometimes offer free shipping on some lots. Normal shipping is always at buyers risk since we cannot provide tracking number on unregistered mail therefore our role ends once we hand the letter at the Post Office as we have no control over Postal Authorities. Accepting normal mail means you read and agreed with our terms that you the Buyer bears all risks for lost or stolen mail as well as damaged in transit and that you will not open a claim or dispute via ebay or Paypal. If you are not comfortable please use registered mail with tracking code. Keep in mind that ebay and Paypal recommends that all international sales should bear a tracking code therefore let us obey by their rules. All sales above $20 will be sent by registered mail with tracking code and all sales to Russia Asia Africa Latin America will be sent registered as well.
RETURN : We accept return if the item is not as described provided it is returned to us within 14 days in the same condition we mailed it to you. We can either replace the item (if we have a duplicate) or offer no hassle refund. Be aware on low value stamps you might receive a different copy from the one shown as we cannot scan every low value stamp we have but we assure you that we will never send you a damaged example.
WHO ARE WE : We are a family enterprise dealing in stamps since 1972 therefore when you deal with us you deal with a family and we will treat you as family. Feel free to contact us if you have any question, we do respond within minutes as we are on line 8am-10pm. Your satisfaction is our goal and we value every transaction no matter the amount (it can be 99cents or $1000) so if for any reason you are not happy please no need to leave a negative feedback or get upset, we believe good and honest communication will resolve any issue and we will work hard to sort it out. Remember we want you to be happy so you will return again and remember also that customer service is our number one priority as we strive to "Create Customers for Life". Thank you for visiting our store and please add us to your favorites. We wish you a nice peaceful day.

Powered by SixBit's eCommerce Solution