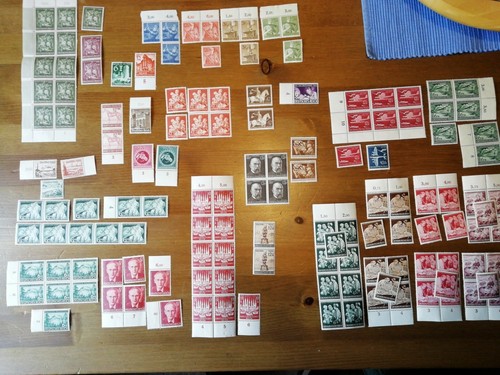 Price: 59.00 USD
Stamp Details:
Third Reich / very fine lot / mint never hinged / most of the years 1943 to 1944




The pictures show what you get
The pictures show the entire offer
I deliver as cheaply as possible
Standard letter up to 20g worldwide = $1.50
Compact letter up to 50g worldwide = $2.00
Large letter (Din A 5 / over 15 x 21 cm) up to 500 g worldwide = $4.00
largest letter up to 1000g (Din A 5 / over 15 x 21 cm) worldwide = $8.00
largest letter up to 2000g (Din A 5 / over 15 x 21 cm) worldwide = $18.00
if you want, add the cost of registered mail + $4.00
for a higher amount, this would be advisable.
Hello from Germany. I'm a collector not a dealer an I offer double stamps out of my collection. Don't hesitate to ask me, if you are looking for german stamps of each period or part in each condition. I've got a big stock. 
You buy without risk – because you have full right of return. I don't have to write anything about private sales and no right of return here, because I'm selling decent goods that I describe properly. But mistakes can sometimes happen – then it's just a matter of going back – no ifs or buts!!!
German text for coping into goggle: 
das Bild zeigt alles
Sie erhalten, was Sie sehen 
Beachten Sie auch bitte mein untenstehendes Tauschangebot –  Ich tausche auch KBWZ – sehen Sie hierzu das letzte Bild mit der Fehlliste und meinen Kontaktdaten – Danke!
Ich berechne innerhalb Deutschland nur die Portokosten und einen kleinen Verpackungsaufschlag. 
Normalbrief (bis 20 g) = 0,85 € + 0,15 € = 1,00 €
Kompaktbrief (bis 50 g) = 1,00 € + 0,15 € = 1,15 €
Großbrief (bis 500 g) = 1,60 € + 0,20 € = 1,80 €
Maxibrief (bis 1000 g) = 2,75 € + 0,25 € = 3,00 €
Versandkosten nur innerhalb Deutschlands. Ich empfehle aber zumindest Einwurfeinschreiben. Überweisen Sie die Einschreibgebühren von 2,35 € für Einwurfeinschreiben oder 2,65 € für Übergabeeinschreiben bitte einfach mit und melden sich kurz bei mir. Ich werde dann so versenden.
Sie kaufen ohne Risiko – denn Sie haben volles Rückgaberecht. Ich muss hier nix von Privatverkauf und kein Rückgaberecht schreiben, denn ich verkaufe ordentliche Ware, die ich ordentlich beschreibe. Aber dabei können auch mal Fehler passieren – dann geht's einfach retour – Ohne Wenn und Aber!!!
Suchen Sie weitere KBWZ wenden Sie sich gern über Frage an den Verkäufer an mich. Sie können mich auch direkt kontaktieren – sehen Sie das letzte Bild. Da steht auch meine Anschrift und Telefonnummer. Ich tausche auch sehr seltene KBWZ / teils auch solche mit Andreaskreuz gegen mir fehlende Stücke. Habe ergiebiges Tauschmaterial.
Außerdem suche ich Tauschpartner für gestempelte Ecken / Eckrand / Eckränder Bund aus den fünfziger Jahren – auch hier habe ich jede Menge Material – auch einfache Ecken ohne KBWZ aus den Zeiten bis 1994 – ab Zehnerbögen sowieso.
Ich versuche diese Form der Kontaktaufnahme, da teuere Tauschanzeigen in Fachzeitschriften nicht mehr den gewünschten Erfolg bringen.
Ich freue mich über Nachrichten  ( Kauf oder Tausch ) zu KBWZ und / oder Andreaskreuz auch über Kontakte zum Tausch gestempelter Ecken Bund aus den Fünfzigern und Sechzigern