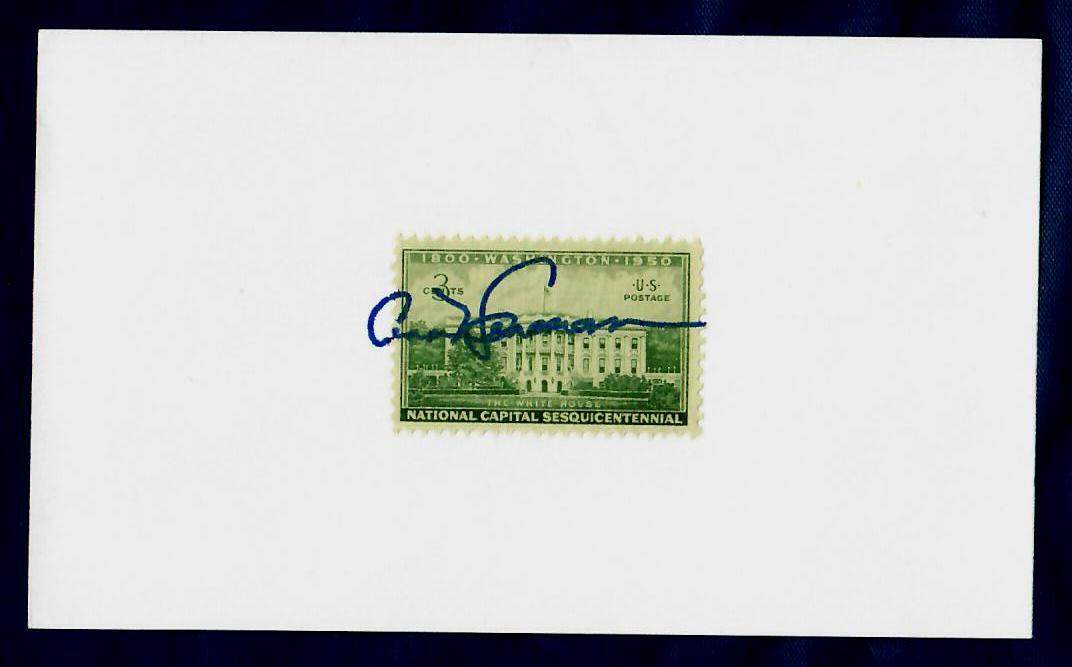 Price: 104.99 USD
Stamp Details:
"UNICEF" Ann Venemon Hand Signed 3X5 Card W/ RARE Stamp Todd Mueller COA




Up for auction a 
"UNICEF" Ann Venemon Hand Signed 3X5 Card W/ RARE Stamp. 
This item is certified authentic by Todd
Mueller Autographs and comes with their Certificate of Authenticity.
ES – 8194
Ann
Margaret Veneman (born
June 29, 1949) is the former executive director of UNICEF, serving from 2005 to 2010. Her appointment was
announced on January 18, 2005 by UN Secretary-General Kofi Annan. Previously, Veneman was the United States Secretary of
Agriculture, the first, and as of 2018 the only, woman to hold
that position. Veneman served as USDA Secretary from January 20, 2001 to
January 20, 2005, leaving to become the fifth executive director of UNICEF. She
served in this position from May 1, 2005. A lawyer, Veneman has practiced law
in Washington, DC and California, including being a deputy public defender. She
has also served in other high level positions in U.S. federal and state
government, including being appointed California's Secretary of Food and
Agriculture, serving from 1995 to 1999. Veneman serves as a co-leader of the
Nutrition and Physical Activity Initiative at the Bipartisan Policy Center She
is a member of the Council on Foreign
Relations. Veneman was raised on a peach farm in Modesto, California. Her
father, John Veneman, was former
undersecretary of Health, Education and Welfare and member of the California
State Assembly. She earned her bachelor's degree in political science from
the University of California,
Davis, a Master of Public Policy from
the Richard & Rhoda Goldman School of Public Policy at
the University of California,
Berkeley, and a Juris Doctor degree from the University of California, Hastings College of the Law. She has also been awarded honorary doctoral
degrees from California
Polytechnic State University, San Luis Obispo (2001); Lincoln University
(Missouri) (2003); Delaware State University (2004)
and Middlebury College (2006).
Veneman began her legal career as a staff attorney with the General Counsel's
office of the Bay Area Rapid Transit District
in Oakland, California, in 1976. In 1978, she returned to Modesto, where she
served as a Deputy Public Defender. In 1980, she joined the Modesto law firm of
Damrell, Damrell and Nelson, where she was an associate and later a partner. Veneman
joined the United
States Department of Agriculture's Foreign Agricultural Service in
1986, serving as Associate Administrator until 1989. During this time she
worked on the Uruguay Round talks for the General
Agreement on Tariffs and Trade (GATT). She subsequently served
as Deputy Undersecretary of Agriculture for International Affairs and Commodity
Programs from 1989 to 2020. From 1991 to 1993, she served as United
States Department of Agriculture's Deputy Secretary, the first woman
appointed as the Department's second-highest-ranking official. At this point
Veneman took a break from political and administrative office to practice with
the law firm and lobby group Patton, Boggs & Blow and also served on several
boards of directors and advisory groups. In 1995, Veneman re-entered
government, when she was appointed Secretary of the California
Department of Food and Agriculture, again being the first woman to
hold the position. From 1999 to 2001, Veneman was an attorney with Nossaman LLP, where she focused her attention on food,
agriculture, environment, technology, and trade related issues. On 20 January
2001 she was unanimously confirmed by the United States Senate and sworn in
as Secretary of
Agriculture, a position she held until January 20, 2005.