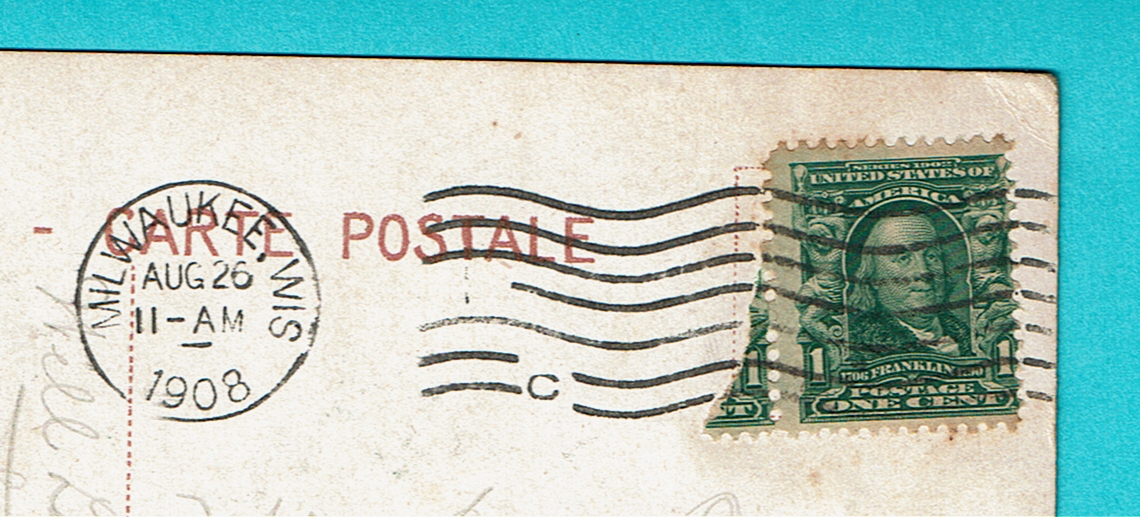 Price: 250.00 USD
Stamp Details:
VINTAGE ONE CENT 1908 POSTMARK STAMP BENJAMIN FRANKLIN POSTCARD MILWAUKEE RARE?




"ONE CENT STAMP" 
vintage used 1908 post marked one cent unusual Benjamin Franklin stamp on postcard from Leif Erickson Monument, Juneau Park Milwaukee, Wis. This item was scanned.  Blue background added for better viewing of postcard and not part of postcard. 
 Standard 3.5″ X 5.5″ size postcard
  1. I have done my best to reveal the material condition of the offered piece in sufficient detail. I am not an expert in this type of merchandise; accordingly, if any item is not "as described" in our auction page, your sole recourse is to ask for a refund under our "Return and Refund Policy," described below. In no event will we be responsible for any defects in condition that are either disclosed in our item description or are clearly depicted in our auction photos. WE DISCLAIM ANY AND ALL WARRANTIES, EXPRESS OR IMPLIED, REGARDING ANY ITEM SOLD ON EBAY, INCLUDING BUT NOT LIMITED TO THE WARRANTIES OF MERCHANT ABILITY AND FITNESS FOR A PARTICULAR PURPOSE.