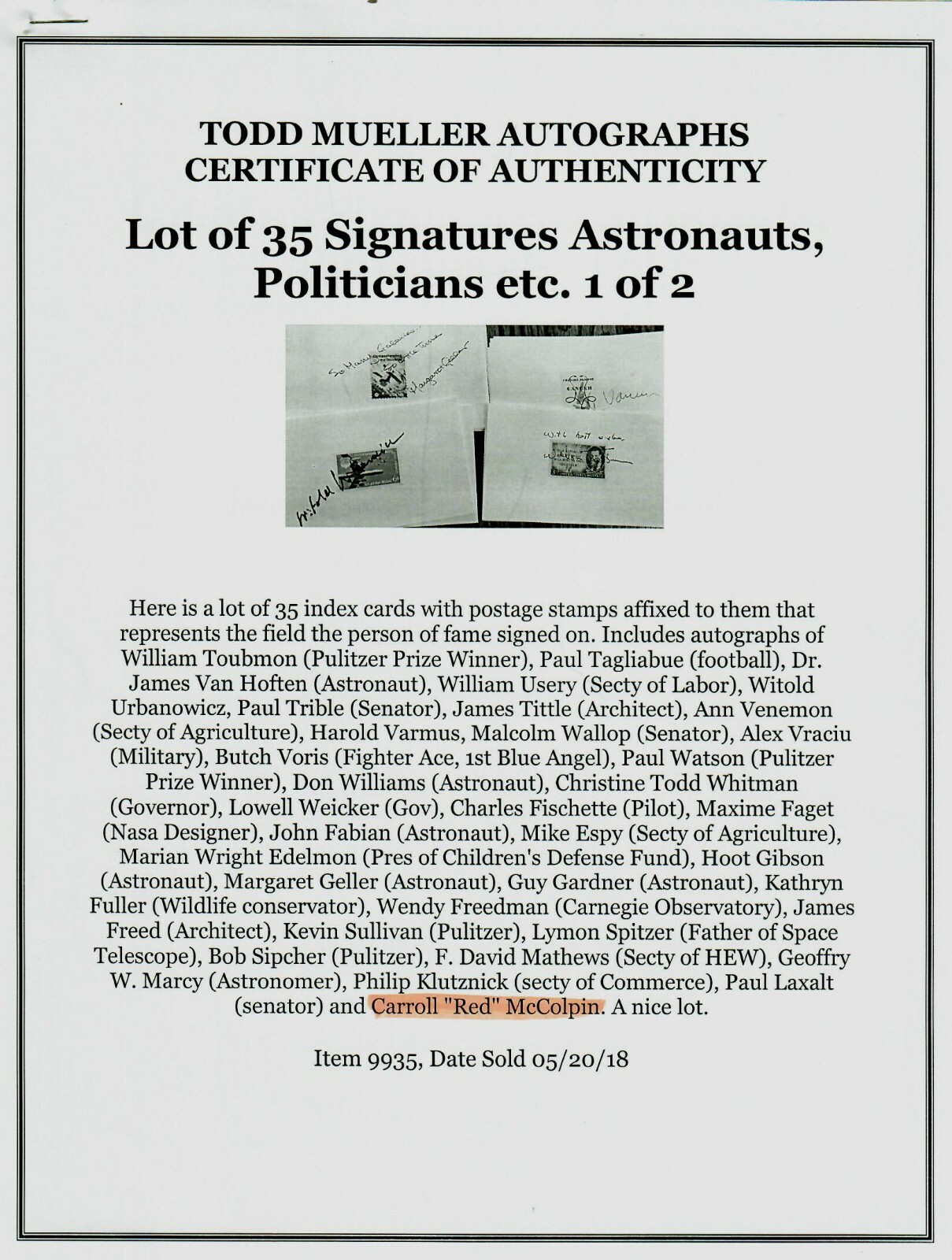 Price: 69.99 USD
Stamp Details:
"Virginia Senator" Paul Trible Signed Index Card/ RARE Stamp Todd Mueller COA




Up for auction 
"Virginia Senator" Paul Trible Signed Index Card/ RARE Stamp. 
This item is certified authentic by Todd
Mueller Autographs and comes with their Certificate of Authenticity.
ES – 8196
Paul
Seward Trible Jr. (born
December 29, 1946) is an American attorney, politician and academic
administrator. Trible is currently president of Christopher Newport
University. He was a Republican politician from Virginia, who served
in the U.S. House of Representatives for three terms and the U.S. Senate for
one term. Trible graduated from Hampden–Sydney College in
1968 with a Bachelor of Arts in History. In 1971, he received a Juris Doctor degree from Washington
and Lee University School of Law and was soon after admitted to
the Virginia Bar. He served as a law clerk for a federal judge from 1971 to
1972, and then as an assistant U.S. Attorney in the Eastern District of Virginia from 1972 to 1974. In 1973, at age 26, Trible
was elected as Commonwealth's Attorney for Essex County, Virginia,
serving from 1974 to 1976. He was appointed to the Virginia Law Enforcement
Officers Training and Standards Commission in 1976 and at age 29 in November
was elected to the U.S. House
of Representatives, winning reelection in 1978 and 1980. In 1982,
the 35-year-old Trible received the Republican nomination for the U.S. Senate seat
being vacated by Harry F. Byrd Jr.,
defeating Lieutenant Governor Dick Davis in the
general election. After serving in the U.S. Senate from 1983 to 1989, Trible
declined to seek reelection in 1988. During the last year of his Senate term,
he served simultaneously as a member of the U.S. Delegation to the United Nations. In 1989, Trible was the early favorite to
capture the GOP nomination for governor; however, Marshall Coleman narrowly won the nomination and
ultimately lost to Democrat Douglas Wilder. In 1989, between his retirement from the
Senate, and his run for governor, Trible was a teaching fellow at the John F.
Kennedy School of Government at Harvard University. After
his political career, Trible briefly returned to practicing law with Laxalt, Washington, Perito
and Dubuc of Washington, D.C. and Shuttleworth, Ruloff, Giordano and
Kahle, P.C. of Virginia Beach, Virginia.