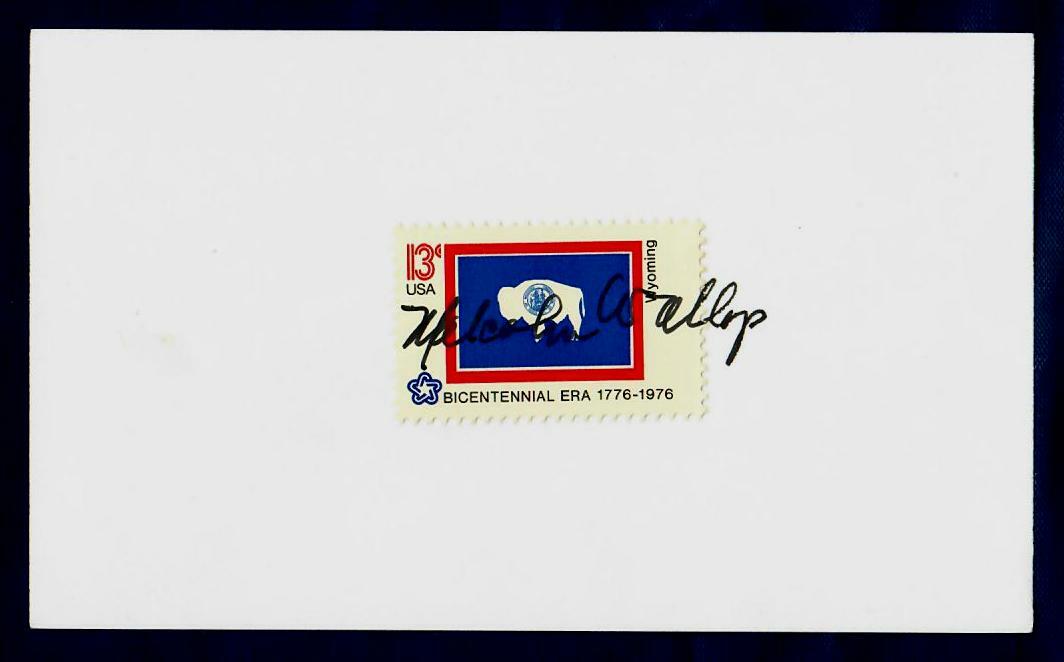 Price: 69.99 USD
Stamp Details:
"Wyoming Senator" Malcolm Wallop Signed Index Card W/ RARE Stamp Mueller COA




Up for auction 
"Wyoming Senator" Malcolm Wallop Signed Index Card W/ RARE Stamp . 
This item is certified authentic by Todd
Mueller Autographs and comes with their Certificate of Authenticity.
ES – 8192
Malcolm
Wallop (February 27,
1933 – September 14, 2011) was an American rancher, Republican politician, and three-term United States Senator from Wyoming. Wallop was born in New York City, graduated from the Cate School in Santa Barbara, California, and attended Yale University, where he was a member of St. Anthony Hall. His ancestors in England were titled English
aristocracy, and his roots in Wyoming stemmed back to pioneer ranchers in
the Big Horn area. His
paternal grandfather, Wyoming cattle rancher Oliver Henry
Wallop, emigrated to the United States from England in the late 19th
century and inherited the Earldom of Portsmouth.
He is thought to be the only person to have served in both the British House of Lords and
the Wyoming House of
Representatives. Following
his graduation from Yale in 1954, Malcolm Wallop served in the U.S. Army as a first lieutenant from 1955 to 1957. After his discharge from the Army, Wallop began
ranching, and entered politics in 1969 as a successful candidate for the Wyoming House of
Representatives. He served two terms, followed by a stint in
the Wyoming State Senate from
1973 to 1976. In
1974, Wallop sought the Republican gubernatorial nomination, but was defeated by Richard R. "Dick" Jones, a trucking executive
from Cody and Powell in Park County in
northwestern Wyoming. Jones went on to lose the general election in a heavily Democratic year
to Edgar Herschler of Kemmerer in Lincoln County in
southwestern Wyoming. In 1976, in another nationally Democratic year, Wallop
successfully unseated three-term Democratic U.S. Senator Gale W. McGee, winning 55 percent of the vote to win a seat in
the United States Senate.